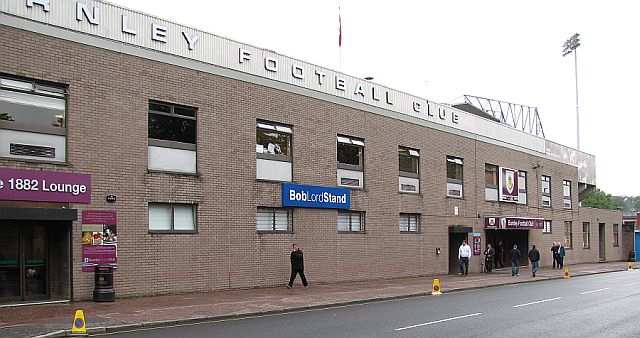 Reading really are the team to watch. Tuesday's home win against Portsmouth was their seventh successive win and it is clear where their strength lies. They've scored just ten goals in those seven wins but conceded only one, that last Saturday when Andy Keogh gave Millwall the lead against them. They've kept a total of 17 clean sheets this season and that's a figure matched just by Hull.
Tuesday's win takes them within two points of West Ham who grabbed a late Ricardo Vaz Te equaliser at home to Watford, and a further point behind Southampton who were the victims of a late equaliser at home to Ipswich.
Middlesbrough are fourth with Blackpool and Birmingham the other teams in the play off positions right now, but it's tight with three teams, Brighton, Cardiff and Hull all within one good result of a place in the top six.
Down at the bottom of the league we have a new bottom club and that's Portsmouth. Besides not having two pennies to rub together the South coast club have now won just two points in their last seven games. Add that to the ten point deduction for going into administration and it's dumped them right where they belong at the bottom of the league.
They dropped that further place because Doncaster won at Nottingham Forest in a game that would have seen the home side get some considerable breathing space had they won it. Donny, along with Coventry, are now three points clear of Portsmouth who will probably get out of trouble given the way some are bending over backwards to help them again, this time the Football League by allowing them to receive payments.
We didn't play in midweek and it has almost gone unnoticed that we've dropped back into the bottom half of the table courtesy of Crystal Palace, our opponents tomorrow, drawing at Coventry.
Maybe it was the excitement of the FA Youth Cup win at Fulham, but it was only this morning when I checked the league tables that I spotted us in 13th place, the first time we've been in the bottom half since mid-December after the defeat to Portsmouth.
We're back in action this weekend, and there's a full programme. Those fixtures are below along with the midweek results and stats, the leading goalscorers, each club's disciplinary record and the highest and lowest attendances.
The Midweek Results
Tuesday 6th March

Bristol City 3 Leicester City 2

Nottingham Forest 1 Doncaster Rovers 2

Coventry City 1 Crystal Palace 1

Peterborough United 0 Millwall 3

Derby County 2 Blackpool 1

Reading 1 Portsmouth 0

Hull City 0 Leeds United 0

Soouthampton 1 Ipswich Town 1

Middlesbrough 2 Barnsley 0

Wednesday 7th March

Brighton & Hove Albion 2 Cardiff City 2

West Ham United 1 Watford 1
The Midweek Stats

Biggest Win

Millwall3-0 v Peterborough United (away)

Total Goals Scored

27 (14 home - 13 away)

Player Scoring Most Goals

2 - Steven Davies (Derby County)

Highest Attendance

31,674 - West Ham United v Watford

Lowest Attendance

6,392 - Peterborough United v Millwall

Total Yellow Cards

27

Total Red Cards

0

Most Cards in a Game

Coventry City v Crystal Palace (4Y) Ref: Mark Brown
Brighton & Hove Albion v Cardiff City (4Y) Ref: Oliver Langford
Leading Goalscorers (League Only)

21

Rickie Lambert (Southampton) - includes 7 penalties

15

Ross McCormack (Leeds United)

14

Jay Rodriguez (Burnley) - includes 2 penalties

13

Michael Chopra (Ipswich Town)
Darius Henderson (Millwall) - includes 2 penalties
David Nugent (Leicester City)

12

Ricardo Vaz Te (West Ham United) - (10 with Barnsley)

11

Craig Davies (Barnsley) - includes 1 penalty
Marvin Emnes (Middlesbrough)
Matty Fryatt (Hull City) - includes 1 penalty
Kevin Phillips (Blackpool)
Billy Sharp (Southampton) - includes 1 penalty - (10 with Doncaster Rovers)
Robert Snodgrass (Leeds United) - includes 1 penalty

10

Charlie Austin (Burnley)
Guly Do Prado (Southampton)
Lukas Jutkiewicz (Middllesbrough) - includes 1 penalty - (9 with Coventry City)
Marlon King (Birmingham City) - includes 2 penalties
Pete Whittingham (Cardiff City) - includes 3 penalties
Chris Wood (Bristol City) - (9 with Birmingham City)

9

Keith Andrews (Ipswich Town)
Ashley Barnes (Brighton & Hove Albion) includes 3 penalties
Carlton Cole (West Ham United)
Robert Koren (Hull City)
Craig Mackail-Smith (Brighton & Hove Albion)
Nicky Maynard (West Ham United) - (9 with Bristol City)
Scott McDonald (Middlesbrough)
Kenny Miller (Cardiff City)
Hat Tricks
Date

Player & Game

20/08/11

3: Lee Tomlin - PETERBOROUGH UNITED v Ipswich Town

10/09/11

3: Rickie Lambert - SOUTHAMPTON v Nottingham Forest

11/09/11

3: Chris Wood - BIRMINGHAM CITY v Millwall

12/10/11

3: Darius Henderson - Leicester City v MILLWALL

02/11/11

3: Jonjo Shelvey - Leeds United v BLACKPOOL

19/11/11

3: Rickie Lambert - SOUTHAMPTON v Brighton & Hove Albion

26/12/11

3: Matthew Phillips - Barnsley v BLACKPOOL

31/12/11

3: Ricardo Vaz Te - BARNSLEY v Leeds United

21/01/12

3: Darius Henderson - Barnsley v MILLWALL

31/01/12

4: Nikola Zigic - Leeds United v BIRMINGHAM CITY

26/02/12

3: Rickie Lambert - Watford v SOUTHAMPTON
Disciplinary Record (League and Cup)

Club

Y

R

Y

R

Club

Y

R

Y

R

League

Total

League

Total

Barnsley

45

1

48

1

Ipswich Town

46

4

47

4

Birmingham City

45

1

50

1

Leeds United

55

5

61

5

Blackpool

43

1

46

2

Leicester City

49

8

57

8

Brighton and Hove Albion

76

6

90

6

Middlesbrough

61

6

64

6

Bristol City

64

4

66

4

Millwall

59

2

66

2

Burnley

48

2

56

2

Nottingham Forest

44

3

49

3

Cardiff City

41

0

57

0

Peterborough United

41

2

44

2

Coventry City

44

2

46

2

Portsmouth

57

4

64

4

Crystal Palace

43

1

47

2

Reading

47

0

50

0

Derby County

45

1

45

1

Southampton

44

4

47

4

Doncaster Rovers

54

2

56

2

Watford

48

2

50

2

Hull City

53

1

57

1

West Ham United

53

6

56

7
Highest and Lowest Attendances

Highest

Lowest

Att

Fixture

Att

Fixture

34,936

West Ham United v Coventry City (02/01)

6,351

Peterborough United v Cardiff City (18/10)

34,900

West Ham United v Crystal Palace (25/02)

6,392

Peterborough United v Millwall (07/03)

34,749

West Ham United v Barnsley (17/12)

7,004

Peterborough United v Bristol City (18/02)

33,465

West Ham United v Portsmouth (10/09)

7,555

Peterborough United v Portsmouth (28/01)

33,010

Derby County v Southampton (15/10)

7,650

Doncaster Rovers v Watford (26/11)

33,010

Derby County v Leeds United (26/12)

7,778

Doncaster Rovers v Bristol City (27/08)

32,875

West Ham United v Southampton (14/02)

7,901

Peterborough United v Burnley (17/09)

32,150

Southampton v West Ham United (18/10)

7,928

Peterborough United v Ipswich Town (20/08)

31,812

Southampton v Brighton & Hove Albion (19/11)

8,062

Peterborough United v Coventry City (17/12)

31,718

West Ham United v Nottingham Forest (21/01)

8,319

Doncaster Rovers v Blackpool (14/02)
The Next Fixtures
Saturday 10th March

Brighton & Hove Albion v Portsmouth

Nottingham Forest v Millwall

Bristol City v Cardiff City (17:20)

Peterborough United v Blackpool

Burnley v Crystal Palace

Reading v Leicester City

Coventry City v Birmingham City (12:30)

Southampton v Barnsley

Derby County v Watford

West Ham United v Doncaster Rovers

Hull City v Ipswich Town

Sunday 11th March

Middlesbrough v Leeds United (12:15)