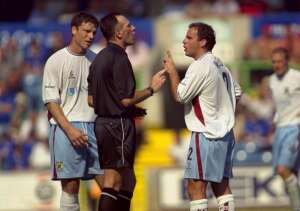 Dean West tells Pugh it was not a penalty at Millwall
Never was that more the case than this week with news that tomorrow's FA Cup 3
rd
round tie against Canvey Island is in the hands of the 45 year-old Wirral based referee David Pugh who has had a nightmare week (or has he?).
Last Saturday he took charge of the Premiership game at Ewood Park as Derby County won their first away game of the season against Blackburn – see our caption competition and he suffered a verbal attack from Graeme Souness after the game.
Souness said of Pugh, "I've got a very different feeling today to when I did when we played Sunderland, but all in all it's been a pretty miserable Christmas.

"What can I possibly say about that referee today? What words can you possibly use to say about that referee other than he's caused me the worst Christmas I can remember and I would think the vast majority of our supporters as well."
Pugh, now in his sixth season, then moved on to St. Andrews on New Year's Day where he amazingly allowed a game to go ahead on a pitch that was clearly not fit. I watched this game on television and was thankful I hadn't paid for a ticket to watch players struggling to keep their feet on the poor surface. Birmingham don't have under soil heating and the protective covers had not been able to do the job.
I used to work with an ex work colleague of Pugh's and he told me that this referee used to boast on Monday mornings about how many cards he had issued and his record this season bears out the fact that he still enjoys waving cards. So far in just 18 games he has issued 73 yellow and 7 red cards.
He has kept just one clean sheet all season in the Premiership match between Aston Villa and Charlton but has issued 8 yellow cards in a game on three occasions and on the second of these added three red cards as well. That was the 3rd Division game between Mansfield and Luton that saw Mansfield's Martin Pemberton and Shayne Bradley and Luton's Chris Coyne all see red.
His other four red cards all came in his first five games of the season and they were Barnsley's Mitch Ward (at Bradford), Steven Reid of Millwall in the home defeat against the Clarets, Reading's Phil Parkinson at home to Cardiff and Danny Schofield of Huddersfield at Wigan. Of his 73 yellow cards this season 30 have been received by home team players and 43 by away team players.
The Millwall game in September was the only previous occasion this season we have been refereed by Pugh. Reid was sent off after hurling abuse at the assistant who had just corrected referee Pugh by indicating that the penalty he had given against Cox was in fact outside the box. He at least had the decency to change that decision but did book three Clarets that afternoon, Alan Moore, Lee Briscoe and Dean West.
Last season he was in charge of our home win against QPR and on that occasion booked both Kevin Ball and Paul Weller and his previous league visit was the 2-1 win against Millwall in 1998/99 that saw Peter Swan receive a yellow card.