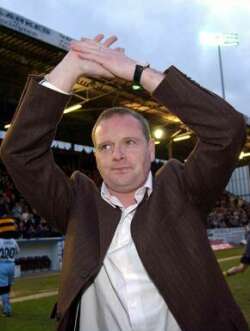 Gazza takes the applause from the Clarets fans before the game
The first home win since mid-December was accompanied by the arrival of Paul Gascoigne, a real life Dingle and even a streaker. That all pales into insignificance alongside the antics of Bertie Bee.
Home performances have not been the best recently with a mix of draws and defeats played in an atmosphere that Stan decided to have something to say about after the Norwich game. There was none of that tonight with Turf Moor buzzing right from the word go.
Gazza made his entrance around a quarter of an hour before kick off alongside his minder and at times it was difficult to get a glimpse of the latest Claret who was surrounded by photographers as he made his way from tunnel to directors box. The ground lifted as he came out and from that moment on I don't think the Clarets fans ever really went quiet.
We had a debutant tonight in David Johnson and he too got a great reception although his thunder had somewhat been stolen by Gazza. His debut was to be memorable though as he set up the first and scored the second in our 2-1 victory.
Two up in the first half and Johnson's pace and ability had been a key factor. He caused what is now becoming the regular goalkeeping cock up for Preston that saw the ball reach Ian Moore but what a finish from Mooro who looked a different player from the one that has struggled so much recently. Anything Beckham can do.
Johnson's quick thinking at a free kick saw him get clear to make it 2-0 and this was one of four chances he had in the first half as he ran the Preston defence ragged. The huge respect that the players have for Stan was there for all to see again as Johnson made a bee line for him after the goal although there didn't appear to be any Arthur like kisses on this occasion for the beaming Clarets boss.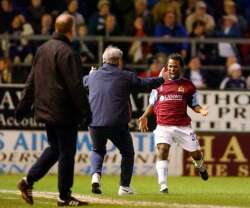 David Johnson makes his way to Stan after scoring on his debut
I can't quite recall ever having seen a Burnley attack with so much pace and it was certainly a major worry for the less than quick Lucketti and Gregan in the first forty-five minutes. Two up at half time and it could with any luck have been more.
This removed my worries for half time. I was most concerned about giving the visiting fans any ammunition but with a 2-0 lead the entrance of real life Dingle Zak all the way from Emmerdale and complete with cap was greeted with delight by the Burnley fans. It meant we were able to rub it in with chants of "Proud to be a Dingle" along with "Where's your Moyesy gone".
David Eyres was the Foundation guest tonight and sadly he did not come out onto the pitch, something I found very difficult to believe. Eyresy, despite the fact that he plays for Oldham and is a self confessed Evertonian, had referred to the Clarets as US on more than one occasion in the Centre Spot before the game and he would have received a great reception from the fans at half time.
I said when we won at Deepdale that we had beaten one of the better teams in the division and I believe this to be true and there is no doubt that they played a lot better in the second half. They had a spell midway through the half when I thought they were getting on top but we did seem to see them off.
We then had one of the most memorable moments I have ever witnessed at the Turf. Recently, with friends, we were discussing the day we played Norwich when a full bag of flour was thrown on at Ted McDougall from the Bee Hole End but that was surpassed. We had a streaker, the first I can recall at the Turf. He eluded the stewards as he run towards the visiting fans and pointing his back side at them showing the score at the time 2-0. He then came across the strangest of obstacles.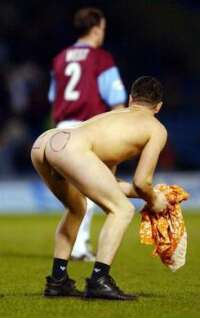 The view the Preston fans got
The stewards couldn't stop him but his antics were brought to an end when he was rugby tackled by a bee. Now don't you remember us telling you that Bertie Bee came from Leeds Rhinos? Bertie then went on a lap of honour to a standing ovation.
Back to the game and it looked over with as we seemed to get control of the game again and then with just about five minutes of normal time remaining they pulled one back through Iain Anderson after good work down the right by Dickson Etuhu, their best player in my view.
Suddenly the panic button was hit in the Harry Potts Longside around me but thankfully not on the pitch. Apart from a corner they didn't really trouble us again in those five minutes plus the four added. Robbie Blake was introduced and he and Glen Little just took the ball down the right hand side and didn't allow Preston a look in.
We could have even added a third when Alan Moore appeared to be brought down but the referee waved away claims for a penalty.
The final whistle was greeted with delight and relief but the relief was because of the long wait since the last three points at home. The delight was with the whole performance from the Clarets.
I don't think for one minute that players ever go out and don't try but it is a fact that they do sometimes look more up for it in some games than in others. Tonight they looked just about as up for it as they have looked all season. The first half was the best we have played at home all season. Two great goals, David Johnson scoring on his debut and the first to do that since Phil Gray at the beginning of last season, and some superb attacking play.
The second half was maybe more subdued and Preston played their part but we were still playing very well. The sponsors and television both gave Ian Moore the man of the match award and who am I to argue?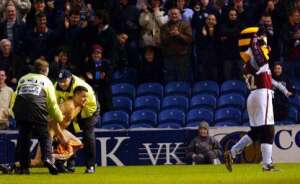 Bertie sets off on his lap of honour as the streaker is set to make an early exit
It was so difficult in such a good performance to choose one but apart from Moore I would like to single out three players. David Johnson had a great first game before tiring and being replaced. When needed Marlon produced two superb saves in the second half and Kevin Ball was outstanding in the midfield as he broke up most things Preston tried to do and got Burnley moving. Again he missed a chance but I think we have all come to the conclusion now that Bally just doesn't know how to score goals.
Sorry to those who I haven't singled out but rest assured you all played well too in a performance that surely has given us that kick start we needed to get moving again and hopefully a play off place. It really was the best home performance of the season against a good side.
By this time I have usually launched some blistering attack on the referee so here goes. I thought Paul Durkin's performance this evening was as good a performance I have seen from a referee in a long, long time. He allowed the game to flow, he looked to play advantage as much as possible and when he did have to stop the game did with as little fuss as possible. There were long spells in the game where he was hardly noticeable and that is the best you can ever say about a referee. Well done.
So three points at home, two successive wins and hopefully moving again. We have Gazza to add to the squad for Wednesday although sadly Paul Weller, another back to form tonight, will be missing. He goes into hospital tomorrow with a knee injury. It has been a bit of a stop start season for Paul but hopefully he won't be out long.
Now we just wait for Wednesday and what must surely be Gazza's debut. Come on you Clarets.
The teams tonight were,
Burnley: Marlon Beresford, Dean West, Ian Cox, Mitchell Thomas, Lee Briscoe, Paul Weller (Glen Little 59), Kevin Ball, Tony Grant, Alan Moore, Ian Moore (Robbie Blake 89), David Johnson (Paul Cook 89). Subs not used: Nik Michopoulos, Andy Payton.
Preston North End: David Lucas, Graham Alexander, Chris Lucketti, Sean Gregan, Rob Edwards, Lee Cartwright (Iain Anderson 64), Dickson Etuhu (Thordur Gudjonsson 90), Mark Rankine, Michael Keane, Richard Cresswell, David Healy (Steve Basham 84). Subs not used: Tepi Moilanen, Adam Eaton.
Referee: The very impressive Paul Durkin from Portland, Dorset.