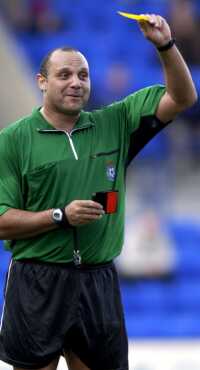 Cards at the ready - referee Phil Prosser
What do Iain Anderson (Grimsby), Peter Hawkins (Franchise), Matt Hocking (Boston), Ezomo Iriekpen (Swansea), Paul Ritchie (Walsall), Chris Westwood (Hartlepool), Lee Miller (Bristol City), Karl Munroe (Macclesfield), Danny Harrison (Tranmere) and Leo Roget (Brentford) all have in common?
The answer is that all ten of these players have been shown a red card this season (yes, this season) by referee Phil Prosser of Gloucestershire. And this is the referee we have in charge at Field Mill tomorrow.
Incredibly those 10 red cards have come in just 19 games and to add to that he has also waved his yellow card on an astounding 81 occasions. He had a run of sending off a player in seven successive matches and also waved 53 yellow cards in a run of 9 games.
But this is nothing new for Prosser, he is in his fourth season on the league list and three of them have been littered with red cards at the rate of every other game whilst he has already reached 350 yellow cards in that time.
This season you are more likely to get a yellow card as a home player with 45 of those 81 yellow cards going that way and only 36 to away team players. But beware Burnley all but two of those red cards have been handed out to away team players.
He does have the odd lapse though and recently kept his cards in his pocket throughout the Watford v West Ham match, but this sort of day is rare.
His only Burnley match to date was one of those rare days when only Ian Roper of Walsall was booked as we beat the Saddlers 5-2 at home in a day more remembered for Lee Briscoe replacing Ian Moore and scoring twice and Paul Cook scoring the superb fifth from out on the left touchline.
We can only hope he has one of his rare lapse days tomorrow and allows the 22 players on the pitch to get on with playing football.
Previous Burnley games:
| | | | | | | |
| --- | --- | --- | --- | --- | --- | --- |
| Season | Opps | V | Res | Y | R | Burnley players carded |
| a | | | | | | |
| 2001/02 | Walsall | h | 5-2 | 1 | 0 | |