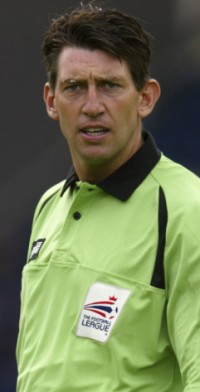 That Manchester United game was his only Burnley game in our Premier League season and he hasn't refereed us since.
The first time he refereed us was at Plymouth back in the 2004/05 season. He had something of a nightmare that afternoon and things weren't much better in his next few games either.
He'd been earmarked for the Premier League and eventually got there in January 2007 when he refereed the game between Sheffield United and Portsmouth at Bramall Lane.
Probert has certainly improved since his early days and is now used almost exclusively in the Premier League and this will be only his second Football League game this season. We might need to beware too, in the other between Brighton and Leeds at the Amex he yellow carded no fewer than ten players.
This season he has refereed two Europa League games and one international between Azerbaijan and Belgium. There have been 16 yellow cards and two red cards in those games, but in 18 domestic games he's handed out 54 yellows and just one red card.
Of those yellow cards, 26 have gone to home team players and 28 to away team players. The only player he's sent off this season is Arsenal's Djorou in their recent 2-1 defeat at Fulham.
Probert's last game was West Brom's 4-2 FA Cup win against Cardiff two weeks ago. There were three yellow cards in that game; Nicky Shorey and James Morrison of West Brom and Cardiff's Stephen McPhail.
His assistant referees tomorrow are Darren England |(South Yorkshire) and Adrian Holmes (West Yorkshire). The fourth official is Football League referee Eddie Ilderton (Tyne & Wear). He refereed our 5-1 win against Nottingham Forest earlier in the season.
Previous Burnley Games
Season

Opponents

V

Res

Y

R

Burnley Players Carded

2004/05

Plymouth Argyle

a

0-1

5

0

n

Branch, Grant, McGreal

2005/06

Leicester City

a

1-0

3

0

n

Hyde, Sinclair

2005/06

Crewe Alexandra

h

3-0

2

0

n

Duff

2006/07

Crystal Palace

a

2-2

1

0

n

Hyde

2007/08

Barnsley

a

1-1

2

0

n

Caldwell

2008/09

Birmingham City

h

1-1

3

0

n

Carlisle, Thompson

2008/09

Cardiff City

a

1-3

5

0

n

Carlisle, Elliott, Kalvenes, Williams

2009/10

Manchester United

a

0-3

0

0