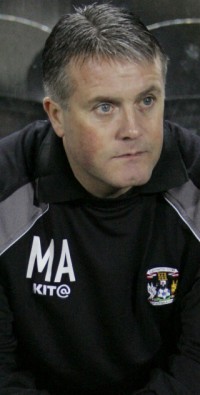 With the latest play off idea Micky Adams could have been leading Coventry into the Premiership with 63 points

For once I think the Premiership have got it absolutely right, just imagine if the daft idea had been brought in for this season, it could have seen Coventry promoted despite collecting only 63 points all season and winning only one more game than they lost.



Burnley chairman Barry Kilby has spoken out against the Premiership today over their refusal to accept it, but I don't see where he has an argument. He claims that the changes, giving the highest placed clubs home advantage up to the final would give them a better chance of making it, but we've now had ten games in this season's play offs and are still awaiting the first home win.



He then says: "They (the Premiership) don't seem to want this implemented in case the team finishing eighth earns promotion to the Premiership. Yet the team finishing fourth can still qualify for the Champions League and that is okay."



That argument I don't understand, yes fourth in the Premiership gets into the Champions League, but why shouldn't they? We get four places. It's not as though the Premiership are awarding places to the top three and then allowing the next four (or even six) clubs to play off for the last place, they are awarding the places to the highest placed clubs.



The new idea would have seen 5th play at home against 8th and 6th at home against 7th with the two winners then playing away against against 3rd and 4th in the semi-finals before a final at the Millennium Stadium (or Wembley, if it is ever ready). The League tried to bring it in three years ago and it was thrown out then, thankfully it has been thrown out again.



They might just push the Premiership too far one day to be told that they won't accept play off winners, only the top three, and it will serve them right. The Premiership has not been good for English football in so many ways, but they certainly have my support on this nonsense.