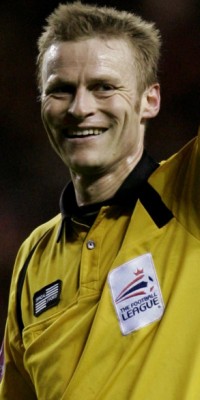 Jones is certainly no stranger to Burnley games and last refereed us almost a year ago, our 0-0 home draw against Queens Park Rangers when he yellow carded seven players including five Burnley players.
The 43-year-old became a Football League referee at the start of the 1997/98 season and his first Burnley game was the home game against Brentford that season and tomorrow will be his 23rd Burnley fixture and so far we've won eight, drawn seven and lost seven.
There have been some controversial moments too, and some funny ones. It was Jones who sent off Craig Hignett on the Turf back in 2002 whilst on loan at Coventry, one of the funniest red cards seen.
He's one of four opponents he's dismissed. The others are Giovanni in our 2-0 home win against Hull in the Premier League and West Brom's Paul McShane for elbowing when he'd clashed heads with James O'Connor. The last one, and the clearest of them was that of Marc Albrighton in last season's Carling Cup defeat at Aston Villa.
There have certainly been some moments that have not gone our way and one that stands out are the game at Chesterfield in 1998, Stan Ternent's first away league game in charge, when he awarded a ridiculous penalty against Ronnie Jepson that handed the game to the home side.
I've always felt that he's favoured home teams too much and it is interesting to note there has been only one away victory, Reading at Burnley in 2006, in all the Burnley games he's refereed.
That's not the case this season with seven of the games he's refereed having been away wins. Of his fourteen games this season he's only twice stepped outside the Premier League, once to referee the Carling Cup tie between Leeds and Manchester United and more recently he dipped into League Two to referee the Northampton v Swindon game.
He's given out 62 yellow cards this season in those 14 games. 28 of those have gone to home team players and 34 to away team players. There have also been six red cards. The first five were for away team players but on Tuesday this week he sent off Gareth Barry of Manchester City.
That was in their 3-0 home win against Liverpool. Barry went for two yellow cards and Liverpool's Glen Johnson was the other player carded.
Since the introduction of the RATE THE REF table he's refereed us nine times. He's currently in 16th place with a rating of 69.61 out of 100.
The assistant referees at Norwich are Andy Garratt (West Midlands) and Mark Scholes (Buckinghamshire). The fourth official is Football League referee Gary Sutton (Lincolnshire) who refereed our 3-1 defeat at Bristol City in November last year.
Previous Burnley Games
Season

Opponents

V

Res

Y

R

Burnley Players Carded

1997/98

Brentford

h

1-1

2

0

n

Payton

1998/99

Chesterfield

a

0-1

3

0

n

Cooke

1999/2000

Bristol City

a

0-0

3

0

n

Mullin

2000/01

Wolves

a

0-1

2

0

n

Cooke, Weller

2001/02

Wimbledon

h

3-2

5

0

n

A Moore

2002/03

Coventry City

h

3-1

1

1

2003/04

Walsall

h

3-1

3

0

2003/04

Cardiff City

a

0-2

4

0

n

Branch, Grant, Jensen

2004/05

Stoke City

h

2-2

2

1

n

Duff

n

Duff

2004/05

Reading

h

0-0

1

0

2005/06

Derby County

a

1-2

4

0

n

Akinbiyi, Sinclair

2005/06

Reading

h

0-3

1

0

n

J O'Connor

2006/07

West Bromwich A

h

3-2

5

1

n

Djemba-Djemba, Harley, Elliott

2007/08

Norwich City

h

2-1

3

0

n

Alexander, Unsworth

2007/08

Stoke City

h

0-0

4

0

n

Mahon, McCann

2008/09

Fulham

h

1-0

1

0

2008/09

West Bromwich A

h

3-1

1

0

n

Caldwell

2008/09

Southampton

a

2-2

7

0

n

Paterson, Alexander, Caldwell

2009/10

Hull City

h

2-0

4

1

n

Elliott

2009/10

Fulham

h

1-1

1

0

2009/10

Wigan Athletic

a

0-1

4

0

n

McDonald, Duff, Mears

2010/11

Aston Villa

a

1-2

2

1

2010/11

QPR

h

0-0

7

0

n

Duff, Alexander, Fox, Thompson, Cork