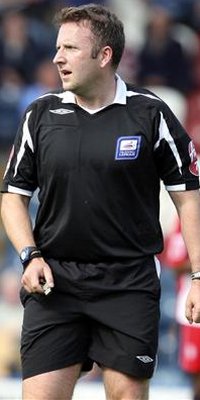 Moss, who is Sunderland born but is now based in Leeds, became a Football League referee for the 2005/06 season and in January 2011 he refereed for the first time in the Premier League when he took charge of the game between Blackpool and Birmingham.
It was one of just two Premier League games for him that season but last season he refereed eleven Premier League games after joining the Select Group of referees at the age of 40.
Today will be his sixth Burnley game, his third at the Turf, but it is in the away games where we've had problems. He very harshly sent off Richard Eckersley at Hartlepool in 2009 and in his last Burnley game, at Nottingham Forest in April 2011, he was conned by the reaction of Billy Davies and his players when he dismissed Marvin Bartley.
His other Burnley away game was at Middlesbrough in 2010/11 when again he had a very disappointing game.
He wasn't involved in the cup during the week and so today is his first competitive game of the season although not his first Burnley game; he refereed our pre-season game at Rochdale.
Last season he refereed 32 games in which there were 112 yellow cards and eleven red cards. Four of the red cards came in Championship games. He sent off Leicester goalkeeper Kasper Schmeichel in Leicester's 2-2 draw at Nottingham Forest and Southampton's Dean Hammond in their 1-1 draw at Reading.
The other two saw him reduce Millwall to nine men at home against Birmingham with both Shane Lowry and Alan Dunne seeing red. The score was 1-0 when the second went but Birmingham took advantage to win 6-0 at the Den.
Moss is the lowest placed referee in the RATE THE REF table. He stands 53rd of 59 with a rating of 46.88 out of 100.
The assistant referees today are Michael McDonough and Richard West. The fourth official is Darren Bond (Lancashire) who has just been promoted to the Football League list this season and will take charge of his first league game on Tuesday with the League Two clash between Burton and AFC Wimbledon.
Previous Burnley Games
Season

Opponents

V

Res

Y

R

Burnley Players Carded

2008/09

Blackpool

h

2-0

0

0

2009/10

Hartlepool

a

2-1

5

1

n

Rodriguez, Eckersley, Easton

n

Eckersley

2010/11

Middlesbrough

a

1-2

3

0

n

Bikey, Carlisle, Wallace

2010/11

Burton

h

3-1

3

0

n

Carlisle, Marney

2010/11

Nottingham Forest

a

0-2

4

1

n

Bikey, Fox, Duff

n

Bartley