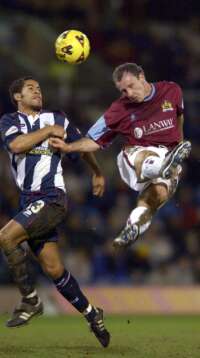 Bally challenges in the air
There was much pre-match debate as to who would be in the side and who wouldn't, who would be fit and who wouldn't. When the team was announced it showed just two changes from the starting line up at Cheltenham and one of those was forced on us. Paul Cook was back, replacing Glen Little who was one of the subs whilst Marlon Beresford made his second Clarets debut in place of the injured Nik the Greek.
Marlon received a superb reception from the crowd as he came out behind captain Ian Cox but had he signed for West Brom last week and been playing against us the welcome would have been just the same, the Clarets fans have always given returning players warm welcomes.
There did seem to be a buzz around the ground tonight, sometimes the atmosphere at the Turf is not the best but tonight I thought it was spot on. New signing Robbie Blake found himself a seat on the bench alongside Glen with Paul Weller also returning from injury getting one of the five places. They were alongside Gordon Armstrong and Lenny Johnrose and for the first time since September 2000 we had no goalkeeper on the bench. That left us hoping there wouldn't be a repeat of last week when we had to make a change in goal after less than 20 minutes.
This was a game we needed to win to get back on track and given that West Brom don't concede many goals we certainly didn't want to be coming from behind. In fact we were almost in front straight from the kick-off as we were awarded a free kick on the edge of the Albion box. Paul Cook's free kick was deflected and Russell Hoult made an excellent save.
Just the sort of start we wanted, on top from the kick off. Unfortunately that wasn't to last and it wasn't long before the pattern was set for the first half. It was a pattern that saw the Clarets very much second best.
Two weeks ago we deservedly lost at home to a dreadful Sheffield Wednesday, last week we deservedly went out of the cup to 3rd Division Cheltenham Town. One thing was clear thought tonight, West Brom are certainly no Sheffield Wednesday or Cheltenham. They are a top First Division club very much in form.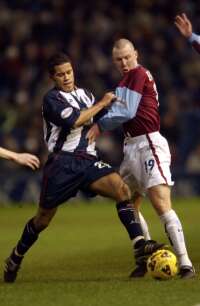 Lee Briscoe held by Johnson
Despite the fact they were the better side they weren't creating much and Marlon was having nothing but routine stuff to deal with. In truth it was hardly entertaining stuff but the one thing you are not going to get with West Brom is an exciting end to end contest with lots of goals.
They were very much in the ascendancy but it was a shock when they did score but it was no surprise that it came from Roberts. One thing for certain, they were unlikely to find a goal from the big overpriced donkey Danny Dichio alongside him.
It all came when referee Winter missed a handball and a free kick to the Clarets but the through ball was all Roberts needed. He has pace and strength and after going round Marlon he finished well.
Five minutes later he got the better of Ian Cox and far too easily and scored with ease. Two down against Albion, you just knew it was over and it could have been worse had Marlon caught him and been sent off with no cover on the bench.
Hoult ended the half as he started it with a good save and West Brom were fully deserving of their two goal advantage as the half time whistle went.
We changed in the second half with Glen on for Cooky and we were better but it is difficult to say by how much. West Brom were content to let us have the ball and defend in numbers, and they are as good as any side in this division at doing it.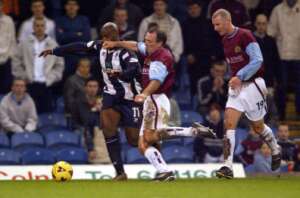 Bally in a fair challenge with Roberts
In fact it was West Brom who came closest to getting a goal when Marlon made his one big mistake of the evening as a ball was crossed from the right. The good news though was it fell to the donkey who managed to miss the target when it was so much easier to hit it. I happen to rate West Brom boss Gary Megson but you have to question his judgement paying £1.25 million for this guy.
The nearest we came to a goal was an effort from Tony Grant near the end when it was set up by new boy Robbie Blake now on as a sub. Again Hoult, who must be close to being the best keeper in this division, saved superbly.
There was an unsavoury period towards the end of the game when to be honest two people came out of it with no credit at all. I have never known a player to be involved in so many free kicks as Jason Roberts. Almost every time he goes near the ball he either wins one or gives on away and he is more than quick raise his arms.
Funny because if anyone goes near him he is one of the biggest whingers you are likely to see. He is a good player and he played well for them tonight but he let himself down badly in my book with his reaction to Dean West. He then went down in a challenge with Kevin Ball and completely lost it. As the big donkey was looking for someone to trade punches with Roberts just went berserk wandering round threatening people.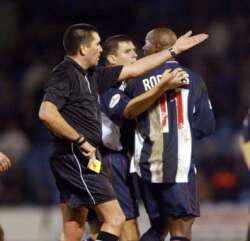 Whinging Roberts leaves the field with a yellow card
Referee Winter (and I use the term referee very loosely indeed here) seemed to be asking the West Brom bench to take him off. If referee Winter wanted him off the field all he had to do was wave a red card at him. In the end he was shown a yellow card as he was substituted and then proceeded to make unnecessary gestures at the crowd.
You are a good player Roberts but you need to grow up. As for Winter, I can't believe that I have just watched a Premiership referee take no real action when a player clearly strikes an opponent in the face after the game has been stopped.
All in all though the result was absolutely fair and I think West Brom have played as well as any side that has been to the Turf this season. Having said that, with this division the way it is, they could soon be on a bad run and we could be back in form.
We do need to get back into some kind of form, that is just two points from the last five league games and we have found ourselves out of the play off area in seventh place albeit with games in hand. It's not the lowest we have been this season, we dropped to ninth in November, but we really need to start winning matches and soon. Our next three are away and we desperately need to pick up points from them.
The teams tonight were,
Burnley: Marlon Beresford, Dean West, Ian Cox, Arthur Gnohere, Lee Briscoe, Kevin Ball, Tony Grant, Paul Cook (Glen Little 45), Ian Moore (Robbie Blake 67), Gareth Taylor, Alan Moore (Paul Weller 56). Subs not used: Gordon Armstrong, Lenny Johnrose.
West Bromwich Albion: Russell Hoult, Larus Sigurdsson, Darren Moore, Adam Chambers, Igor Balis (Des Lyttle 83), Phil Gilchrist, Andy Johnson, Neil Clement, Derek McInnes, Danny Dichio, Jason Roberts (Scott Dobie 86). Subs not used: Brian Jensen, Ruel Fox, Jordao.
Referee: Jeff Winter (Stockton-on-Tees).