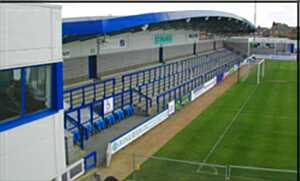 Bucks Head - home of Telford United
We didn't have to wait too long, our number 10 ball was the third to be drawn by David Platt once again meaning an away tie and we have been paired with either Conference side Telford United or fellow First Division side Millwall.
Their game was postponed on Saturday and so we have to wait until next week to find out just where we will be going. If the two sides draw then we can expect the replay to be held on 5th round day and that would push our tie out to probably Tuesday 24th February and that would be just four days before a visit to Millwall in the league.
If it is Millwall then it will be the first cup meeting between the two sides, just as it was when we played Gillingham. However, a visit to Bucks Head would not be the first and the opportunity to wipe out the memories of 1986 at their new look ground would definitely be worth grabbing.
Any tie against Millwall is unlikely to get any major television coverage but there would be a chance of either the BBC or Sky being interested should Telford get through. We can only hope they do, at least it would be another £265,000 in the kitty.
But overall it is a very disappointing draw and I would suggest Barry Kilby would have been very disappointed at the moment our ball came out of the drum.

The full draw is:

Manchester United v Manchester City or Tottenham Hotspur
Tranmere Rovers v Swansea City
Telford United or Millwall v Burnley
Sunderland v Birmingham City
Sheffield United v Coventry City or Colchester United
Arsenal v Chelsea
Liverpool v Portsmouth
Everton or Fulham v West Ham United