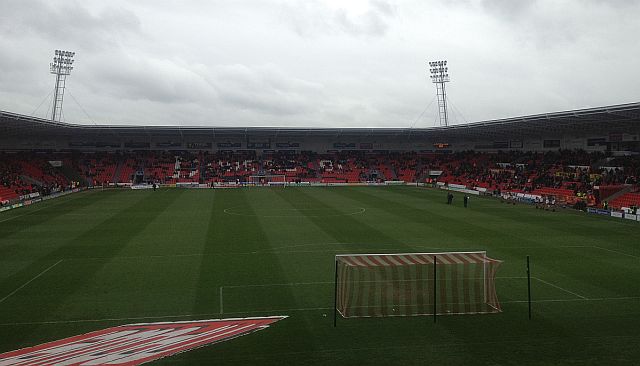 Our win at Doncaster on Monday, which incidentally was our first win there since 1991 and our first ever at the Keepmoat, was followed by Portsmouth losing 1-0 at home last night against Millwall, and that must surely now end any realistic hopes either had of staying up.
These two clubs have tried to do things differently. Doncaster have wheeled players in and out like no one's business this season. When the daft idea first came to light I suggested it would all end in tears.
I'm not so sure whether there have been any tears but they have to win all their remaining four games to even have a mathematical chance of staying up and they can now start preparing for League One football.
They can also get used to there being no players such as El Hadji Diouf, Habib Beye, Pascal Chimbonda and Frederic Piqiuonne around in future, not as though they've done them much good.
Portsmouth tried a totally different idea. Their idea was not to bring players in on short term deals but to bring them in on long term deals at wages they couldn't afford to pay. They've tried this before and it got them into the Championship (from the Premier League), this time it is taking them out of the Championship.
They are paying wages at a level that we at Burnley should never consider paying, couldn't ever consider paying and thankfully won't ever consider paying. This season they played the administration card again and took the ten point hit believing that it wouldn't prove too costly.
Well it has Portsmouth, and only a miracle of biblical proportions will keep you away from League One next season where your chimes will be heard around some of the smaller clubs such as Stevenage, Yeovil and Preston.
Maybe there have been tears at Fratton Park too, but I don't suspect there will be many people with an interest in football showing too much concern at the demise of either of these two clubs.
Who will go with them? It is looking like a straight fight between Bristol City and Coventry City now with the Bristol club the favourites to stay up after winning the game between the two of them 3-1. It's given them a four point cushion with four games to play.
At the other end of the table, Southampton and Reading both won again with West Ham drawing so we've got Southampton and Reading separated by goal difference at the top and both of them six points clear of the Hammers, a situation that has left Fat Sam grumbling again.
West Ham only got a point with a late penalty too against Birmingham? Was it a spot kick? I bet Jon Moss wouldn't have given it at the other end.
Southampton won 2-0 at Palace and Reading last night won at Brighton, and that result pleased me no end given I'm still seething at the loathsome, cheating Sussex club after their performance at the Turf last Friday. Bad news for Brighton though, Gus Poyet hadn't gone missing and turned up for the game.
It's the big one on Friday - Southampton v Reading and I would think the winners of that game could just about book their Premier League place. Sorry Reading but I have a hunch you are going to do it, and just about all my predictions this season have been wrong ones. I'm looking forward to watching that one on television on Friday.
We're nicely settled in the top half again now after the six point Easter. Such has been our form over the weekend that it's just a pity we still don't play three games. Even so, we're now only nine points away from last season's total and that is some achievement given the turnover of players.
We've four left, two at home against the relegation battlers with away games between the two at Leicester and Blackpool who are both still chasing the promotion dream. We'll never hear the last of it from Holloway if the Lashers do it again.
Finally, I'd like to pass on my hearty congratulations once again to referee Darren Deadman. The poor man only managed eleven yellow cards over the Easter weekend, but it was enough to take his yellow card total past the 200. His 201 is 75 yellow cards more than any other referee, and that really is some achievement. I just wish they'd let him loose in the Premier League. Ferguson would have him for breakfast.
The results from the latest Easter games are below with the stats, the league's leading goalscorers, the red and yellow card counts for each club, the highest and lowest attendances and the next fixtures.
The Week's Results
Monday 9th April

Blackpool 1 Barnsley 1

Hull City 2 Middlesbrough 1

Bristol City 3 Coventry City 1

Ipswich 1 Leicester City 2

Cardiff City 1 Watford 1

Leeds United 0 Derby County 2

Crystal Palace 0 Southampton 2

Peterborough United 0 Nottingham Forest 1

Doncaster Rovers 1 Burnley 2

West Ham United 3 Birmingham City 3

Tuesday 10th April

Brighton & Hove Albion 0 Reading 1

Portsmouth 0 Millwall 1
The Week's Stats

Biggest Win

Derby County 2-0 v Leeds United (away)
Southampton v Crystal Palace (away)

Total Goals Scored

30 (12 home - 18 away)

Player Scoring Most Goals

2

Rickie Lambert (Southampton)
Ricardo Vaz Te (West Ham United)

Highest Attendance

31,045 - West Ham United v Birmingham City

Lowest Attendance

8,350 - Doncaster Rovers v Burnley

Total Yellow Cards

34

Total Red Cards

4

Most Cards in a Game

Cardiff City v Watford (7Y) Ref: Darren Deadman
Leading Goalscorers (League Only)

26

Rickie Lambert (Southampton) - includes 9 penalties

17

Ricardo Vaz Te (West Ham United) - includes 1 penalty - (10 with Barnsley)

16

Ross McCormack (Leeds United)

15

Charlie Austin (Burnley) - includes 1 penalty
Darius Henderson (Millwall) - includes 2 penalties
Marlon King (Birmingham City) - includes 2 penalties
David Nugent (Leicester City)
Kevin Phillips (Blackpool)
Jay Rodriguez (Burnley) - includes 3 penalties
Billy Sharp (Southampton) - includes 1 penalty (10 with Doncaster Rovers)

14

Michael Chopra (Ipswich Town)

13

Marvin Emnes (Middlesbrough)
Matty Fryatt (Hull City) - includes 1 penalty
Robert Snodgrass (Leeds United) - includes 2 penalties

12

Chris Wood (Bristol City) - includes 1 penalty - (9 with Birmingham City)

11

Chris Burke (Birmingham City)
Carlton Cole (West Ham United)
Craig Davies (Barnsley) - includes 1 penalty
Lukas Jutkiewicz (Middlesbrough) - includes 1 penalty - (9 with Coventry City)
Kevin Nolan (West Ham United)
Paul Taylor (Peterborough United)
Pete Whittingham (Cardiff City) - includes 3 penalties
Hat Tricks
Date

Player & Game

20/08/11

3: Lee Tomlin - PETERBOROUGH UNITED v Ipswich Town

10/09/11

3: Rickie Lambert - SOUTHAMPTON v Nottingham Forest

11/09/11

3: Chris Wood - BIRMINGHAM CITY v Millwall

12/10/11

3: Darius Henderson - Leicester City v MILLWALL

02/11/11

3: Jonjo Shelvey - Leeds United v BLACKPOOL

19/11/11

3: Rickie Lambert - SOUTHAMPTON v Brighton & Hove Albion

26/12/11

3: Matthew Phillips - Barnsley v BLACKPOOL

31/12/11

3: Ricardo Vaz Te - BARNSLEY v Leeds United

21/01/12

3: Darius Henderson - Barnsley v MILLWALL

31/01/12

4: Nikola Zigic - Leeds United v BIRMINGHAM CITY

26/02/12

3: Rickie Lambert - Watford v SOUTHAMPTON

17/03/12

3: Rickie Lambert - Millwall v SOUTHAMPTON

20/03/12

4: Garath McCleary - Leeds United v NOTTINGHAM FOREST

31/03/12

3: Radi Majewski - Crystal Palace v NOTTINGHAM FOREST

31/03/12

3: Charlie Austin - Portsmouth v BURNLEY
Disciplinary Record (League and Cup)

Club

Y

R

Y

R

Club

Y

R

Y

R

League

Total

League

Total

Barnsley

57

2

60

2

Ipswich Town

52

5

53

5

Birmingham City

57

3

62

3

Leeds United

70

8

76

8

Blackpool

50

2

53

3

Leicester City

58

9

66

9

Brighton and Hove Albion

87

8

101

8

Middlesbrough

71

7

74

7

Bristol City

76

7

78

7

Millwall

71

2

78

2

Burnley

66

2

74

2

Nottingham Forest

57

5

62

5

Cardiff City

53

0

69

0

Peterborough United

49

2

52

2

Coventry City

52

2

54

2

Portsmouth

71

4

78

4

Crystal Palace

53

2

57

3

Reading

56

0

59

0

Derby County

55

1

55

1

Southampton

49

4

52

4

Doncaster Rovers

69

2

71

2

Watford

62

2

64

2

Hull City

66

1

71

1

West Ham United

62

6

64

7
Highest and Lowest Attendances

Highest

Lowest

Att

Fixture

Att

Fixture

34,936

West Ham United v Coventry City (02/01)

6,351

Peterborough United v Cardiff City (18/10)

34,900

West Ham United v Crystal Palace (25/02)

6,392

Peterborough United v Millwall (06/03)

34,749

West Ham United v Barnsley (17/12)

6,717

Peterborough United v Reading (20/03)

34,650

West Ham United v Doncaster Rovers (10/03)

7,004

Peterborough United v Bristol City (18/02)

33,465

West Ham United v Portsmouth (10/09)

7,540

Peterborough United v Blackpool (10/03)

33,366

Leeds United v West Ham United (17/03)

7,555

Peterborough United v Portsmouth (28/01)

33,350

West Ham United v Reading (31/03)

7,572

Doncaster Rovers v Millwall (20/03)

33,010

Derby County v Southampton (15/10)

7,650

Doncaster Rovers v Watford (26/11)

33,010

Derby County v Leeds United (26/12)

7,778

Doncaster Rovers v Bristol City (27/08)

33,010

Derby County v Nottingham Forest (17/03)

7,901

Peterborough United v Burnley (17/09)
The Next Fixtures
Friday 13th April

Southampton v Reading

Saturday 14th April

Barnsley v Cardiff City

Leeds United v Peterborough United

Birmingham City v Bristol City

Millwall v Leicester City

Burnley v Coventry City

Nottingham Forest v Blackpool

Crystal Palace v Ipswich Town

Watford v Hull City

Derby County v Middlesbrough

West Ham United v Brighton & Hove Albion

Doncaster Rovers v Portsmouth