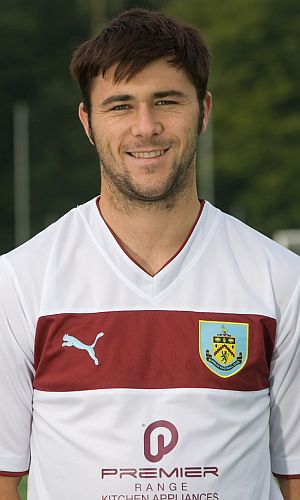 Charlie Austin, top of the player of the year table
In the two games, no less than nine players won points towards the Clarets Mad Player of the Year with their performances getting them top four places in the man of the match votes and the player ratings.
Keith Treacy, on as a substitute for Martin Paterson just before half time, was the man of the match winner at Hillsborough. He polled 46.4% of the vote to give him a clear win over Brian Stock who had a 20.0% share. Third and fourth places were taken by Sam Vokes and Ross Wallace respectively with 6.8% and 5.3% of the vote respectively.
In the player ratings, the top two swapped places. Stock was the winner with a rating of 8.29 out of 10 with Treacy second; his rating was 7.81. Vokes was again third with 7.76 and 7.43 out of 10 ensured fourth place finishes for both Lee Grant and Danny Lafferty.
Four days later at Barnsley it was very much the day for the defenders. Michael Duff took the top place in the man of the match vote. He polled 18.0% with Lafferty coming second with 11.9%. Jason Shackell, playing against a former club, made it three out of three for the defenders, finishing third with 10.6% of the vote and with 10.0% there was a fourth place finish for debutant Dane Richards who came on during the second half as a substitute.
Duff made it a Barnsley double. A rating of 7.27 out of 10 saw him top of the player ratings. Lafferty scored 6.64 to finish second with Shackell and Vokes sharing third place, with both having ratings of 6.55 out of 10.
Duff, with ten, won the most points from the two games, just ahead of both Stock and Treacy who won eight points. Lafferty claimed seven and there were six points for Vokes, four for Shackell and one each for Grant, Richards and Wallace.
The player of the year table now shows Charlie Austin with a twenty point lead. Grant remains in second place with Stock now third, nine points behind Grant and two points ahead of Dean Marney who is fourth.
The next vote will be the man of the match for the Crystal Palace game and will be available from around an hour after the final whistle tomorrow.
The result from the latest two games are below along with the current player of the year table.
SHEFFIELD WEDNESDAY
MAN OF THE MATCH
46.4% - Keith Treacy
20.0% - Brian Stock
6.8% - Sam Vokes
5.3% - Ross Wallace
4.5% - Kieran Trippier
3.4% - Michael Duff
3.0% - Jason Shackell
2.6% - Lee Grant
2.3% - Danny Lafferty
1.9% - Danny Ings
1.5% - David Edgar & Chris McCann
0.8% - Martin Paterson
PLAYER RATINGS
8.29 - Brian Stock
7.81 - Keith Treacy
7.76 - Sam Vokes
7.43 - Lee Grant & Danny Lafferty
7.10 - Kieran Trippier
6.81 - Michael Duff
6.76 - Jason Shackell
6.62 - Ross Wallace
6.48 - David Edgar
6.29 - Danny Ings
6.05 - Chris McCann
5.05 - Martin Paterson
BARNSLEY
MAN OF THE MATCH
18.0% - Michael Duff
11.9% - Danny Lafferty
10.6% - Jason Shackell
10.0% - Dane Richards
9.4% - Danny Ings
5.0% - Kieran Trippier
4.4% - Ross Wallace
3.8% - Dean Marney
3.1% - Brian Stock & Sam Vokes
2.5% - David Edgar & Keith Treacy
PLAYER RATINGS
7.27 - Michael Duff
6.64 - Danny Lafferty
6.55 - Jason Shackell & Sam Vokes
6.45 - Kieran Trippier
6.27 - Danny Ings
6.18 - David Edgar
6.00 - Dane Richards
5.64 - Ross Wallace
5.09 - Keith Treacy
4.82 - Dean Marney
4.45 - Brian Stock
3.64 - Brian Jensen
CLARETS MAD PLAYER OF THE YEAR
99: Charlie Austin
79: Lee Grant
70: Brian Stock
68: Dean Marney
59: Michael Duff
40: Ben Mee
38: Jason Shackell
34: Chris McCann
30: Kieran Trippier
22: Danny Lafferty
20: Danny Ings & Sam Vokes
18: Brian Jensen
16: Ross Wallace
15: Joseph Mills
14: Junior Stanislas
10: Martin Paterson & Keith Treacy
7: Kevin Long
6: Marvin Bartley
3: David Edgar
2: Steven Hewitt
1: Dane Richards