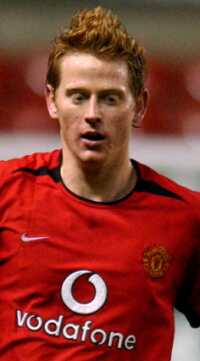 Michael Stewart
Names have been suggested and although it is unlikely that we will be signing Ronaldo or Luis Figo there are three players from one of our top clubs already being mentioned.
Burnley didn't bother making any use of the loan system this season but suggestions are that plans are already in place to do so next season with three players from Manchester United targeted.
It could be why Stan gave Alex Ferguson the bottle of wine last December and in fact two of the players mentioned took part in that Turf Moor Worthington Cup tie.
The first of these is 22 year-old Edinburgh born Michael Stewart who plays in midfield. He made his Premiership debut two seasons ago in an end of season game at Middlesbrough having returned from a loan spell at their Belgian club Royal Antwerp.
Two years later he has not been able to make an impact at the top of the Premiership and has played in just seven league games.
This season he has made four first team appearances, all in different competitions. His first appearance was in the Premiership at Liverpool and that was followed by his Worthington Cup appearance at the Turf. Since then he has played against Portsmouth in the FA Cup and Deportivo in the Champions League.
He is very much rated north of the border and has already won three full caps for Scotland.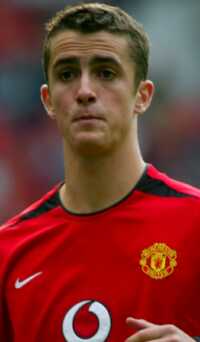 Danny Pugh
The second of their Worthington Cup squad to be linked with Burnley is another midfielder, 19 year old Mancunian Danny Pugh. He is just out of scholarship and has won his first full time contract at Old Trafford.
He was on the fringes of the first team this season and as well as the tie at the Turf he featured in one Premiership match against Spurs but was used in three of their Champions League ties against Maccabi Haifa, Juventus and Deportivo.
He is a player thought to have a great future and is highly rated by the management team at Old Trafford. Much will depend on just how much first team action Ferguson expects him to get next season and he may well believe that a long term loan would give him more experience.
It is certainly something that Ferguson has done on numerous occasions in the past to allow his younger players to gain more experience.
Who will be our goalkeepers next season? That's one question being asked and already a move for one of Manchester United's keepers looks a possibility.
It won't be Barthez or Ricardo and it is hardly likely to be Roy Carroll. But it could be their Under-19 goalkeeper Luke Steele who is in fact a product of Barry Fry's youth scheme at Peterborough.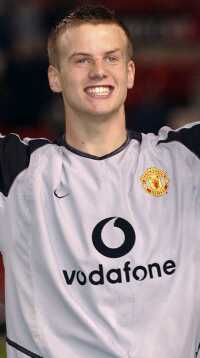 Luke Steele
Steele is just 18 years old but has already made his Football League debut. He played twice during the 2001/02 season for Peterborough in 2
nd
Division games against Reading and Bury.
Peterborough are unable to hang on to their promising youngsters, they sold both Simon Davies and Matthew Etherington to Spurs, and last May Steele was the next to move when Manchester United splashed out £500,000 on him.
He was a member of the Manchester United side that recently lifted the FA Youth Cup with victory over Middlesbrough.
There is no doubt that after a quiet summer in 2002 we can expect more transfer activity this year. That means more speculation and these are probably the first of many who will be linked with us.
But don't be surprised if one, two or even all three of them can be found at Burnley next season.