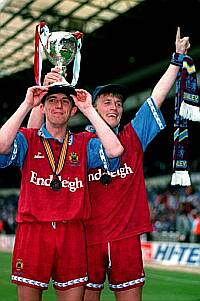 Eyresy and Parky celebrate Burnley's play off success in 1994
For the 1986/87 season the Football League introduced a new conception that they called the Play Offs. This meant that one promotion/relegation place would still be up for grabs once the season had finished.
In the case where three clubs went up just the top two would make it and the next three would play off along with the third bottom from the division higher in a knock out competition to decide who took the place in the higher division. It even gave a chance for a relegated club to stay up although that was soon scrapped and they became the promotion play offs only.
They still exist today in that format and it means that a side finishing the season in sixth place can win promotion along with the top two. In 1991 Torquay went up despite finishing seven points behind the Clarets yet we certainly got our own back three years later when we beat Plymouth and Stockport to win promotion to Division Two after ending the season twelve points behind both of them.
It seems unfair but there is no way the Football League are going to scrap them because it does create more interest for more clubs towards the end of the season. In other words there is money to be made from them.
But surely the greed has to end there. Apparently not and the latest crazy idea is to include the next two teams in the play offs and that would mean in our division the side finishing in eighth place could still make the Premiership.
Soon sides will be fighting relegation until the last week of the season and then winning promotion via extended play offs.
The latest idea would be that the top two would go up automatically with the next six clubs involved in the play offs and these would no longer be two legs. Fifth would play eighth at home and sixth would be at home to seventh. The winners of these two games would then play third and fourth away and then there would be the final. The higher placed club would always get the home game until the final was played.
Frighteningly it has been reported that Burnley Chairman Barry Kilby likes the look of these proposals, thankfully that's all they are at this stage – proposals. Whatever happened to the whole idea of having a league? Surely this ridiculous state of affairs cannot be allowed to happen.
But when the greedy people running football see that it will mean just about every club being involved until very late in the season then I'm sure they will go for it. I bet they don't ask the opinion of the players or the fans though.