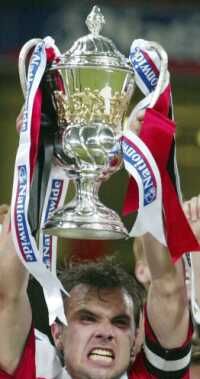 Bournemouth win the 3rd Division Play Off
Today is the 2
nd
Division Final between Cardiff and Queens Park Rangers and tomorrow sees Sheffield United play Wolves for a place in the Premiership. And you have left us in no doubt whatsoever as to who you want to win them.
Our voting polls this week should overwhelming support for QPR with a massive 77.3% voting for them. Much of this is because of the reputation of the Cardiff fans who most of you don't want to see around Turf Moor next season. We'll know later today just who has won that one.
The voting continues for the 1st Division Final and at the time of writing this article there are even more in support of Wolves than there were for QPR with the latest figure showing 80%.
This is no great show of support for Wolves and David Jones, more a vote of hopeful failure for Sheffield United and in particularly their manager Neil Warnock. And by tomorrow we will know the answer to that one and with that the complete list of clubs in Division One for next season.
Cardiff fans and Warnock – there was never much chance of us giving them our support.