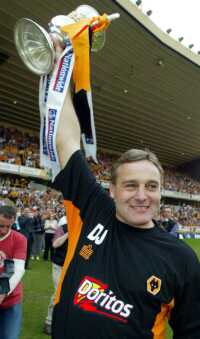 It could be the 8th placed team next season
There seems little likelihood that the new system, apparently the brainchild of the Crystal Palace Chief Executive Phil Alexander, not being introduced for next season. To be honest looking at it I would think Mr. Alexander would have been better employed concentrating on issues at his own club.
The play offs were introduced in 1987, originally with three clubs from the division plus one from the division above fighting against relegation. Although a totally unfair way of deciding a promotion place they have become popular with other clubs getting an extra chance of promotion.
Sometimes it seems a little unfair that a club that finishes behind another can win a promotion place and this has happened again in our division this season with Wolves winning a place in the Premiership despite finishing the season behind both Sheffield United and Reading.
They did in fact end the season four points behind Sheffield United but at times it has been worse than that. One division lower and nine years earlier we were promoted after beating both Plymouth and Stockport in the play offs despite finishing twelve points behind both of them.
We didn't care at the time and without the play offs it would have been Plymouth going up having finished in that 3rd place.
But since the play offs became established and with a 24 team first division the largest points gap between the top and bottom placed clubs in the play offs has been 16 but by allowing an extra two teams in this would extend that.
If the new idea had been adopted for the 1997/98 season it would have seen a team getting into the play offs despite finishing the season 25 points behind the highest placed team in the play offs.
That season saw four clubs compete in the end of season event, Sunderland (who finished the season with 90 points), Charlton Athletic (88), Ipswich Town (83) and Sheffield United (74). Increasing it by two more clubs would have given Birmingham City (74) and Stockport County (65) an opportunity to win promotion.
The Football League is a league, the First Division is based on a 46 league game season. There can be no possible sense in allowing a team to win promotion at the expense of a team they have ended the season 25 points behind.
We all know why it is being brought in, and it is nothing to do with football. Simply by including more teams it will mean less end of season nothing matches and will generate more interest and to put it bluntly more MONEY for the clubs.
It will be interesting to note how many of the clubs who vote in favour of it next week will have discussed it with Supporters' Groups. Some certainly have whilst others blatantly haven't. I'm sure if they did listen the decision next Thursday could in fact be different.
They are trying to tell is it will be fairer because the play off matches will not longer be two legs but will allow the higher placed club to play at home. I am waiting for the clubs to explain how a system that could allow a team to finish 25 points adrift and still win promotion can in any way at all be deemed fairer.
The new system will be played as follows (for Division 3 it will include clubs from 4th to 9th – yes 9th, not even in the top third in the division):
Quarter Finals
6th v 7th (6th at home)
5th v 8th (5th at home)
Semi-Finals
3rd v winner of 6th v 7th (3rd at home)
4th v winner of 5th v 8th (4th at home)
Final
Winners of two semi-finals to be played at the Millennium Stadium.