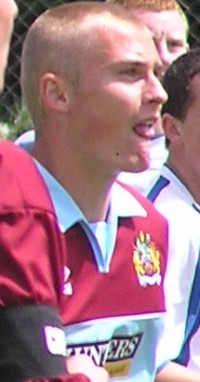 Nicky Platt - joining Stalybridge Celtic
Platt was captain of the youth team in the 2005/06 season but wasn't offered a full time deal by the Clarets. He was playing his football last season for FC United but has now opted to move to Stalybridge Celtic.
FC United manager Karl Marginson wanted him to stay with the Gigg Lane based club but said on confirming the news: ""I'm very sorry to see Nicky leave, but, of course, I wouldn't want to stand in his way if he wants to try his luck at a higher level."
Meanwhile Alex Kevan is on the move again. It is seven years since he was released by Clarets boss Stan Ternent without ever having made the first team. He spent some time in Brunei but has also played non-league football with Hereford United, Lancaster City, Droylsden, Marine, Witton Albion and Colwyn Bay.
He became player manager of Llangefni on Christmas Eve last year but was in charge for just a month before losing his job. A serious ankle injury prevented him from playing for them.
A groin injury has kept him out of football recently but as he recovers he has signed for Principality Welsh Premier club Welshpool Town and is hoping to regain fitness in time to start the new season.