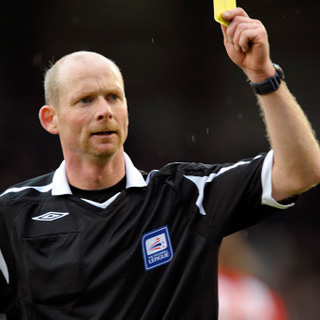 It's a fair old journey for him and will be the first time he's travelled further than the West Midlands all season. Of the 22 games he's taken charge of he's not ventured further than Walsall previously although he has refereed games at Rotherham and Stockport, both last season.
So, in almost four years as a Football League referee he's been involved in games mainly in the South of England, with occasional excursions into the Midlands plus those two games in 2010/11 season.
I don't know anything about him. I haven't seen him referee previously but he has refereed five games at Championship level this season and that includes one Millwall game, their 3-0 home win against Coventry in November.
Over his almost four years in the Football League he's averaged exactly three yellow cards per game and that's just about the case this season. In his 22 games there have been 65 yellow cards although his red card count this season is his highest yet at eight.
Of the yellow cards, 34 have gone to home team players and 31 to away team players and just one of the red cards has come in the Championship, that of Ipswich Town's Aaron Cresswell in their 1-0 home defeat to Crystal Palace.
Phillips' last game was Peterborough United's 3-0 home win against Bristol City last Saturday. The only player carded in that game was Bristol City's Stephen Pearson who received a yellow card.
The assistant referees tomorrow are Danny Gratton (Staffordshire) and Paul Hodskinson (Lancashire). The fourth official is Matthew Bristow (Manchester).