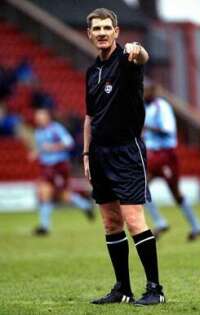 Alan Kaye - at that game at Crewe last season
The man in charge is 44 year-old Alan Kaye from Wakefield in West Yorkshire who is now in his third season on the Football League referees list. The last time he took charge of a Burnley game it was reduced to pure farce because of his antics.
Firstly though we will take a look at his record this season and to date he has refereed 17 games and issued just 31 yellow and two red cards. That's fairly low at less than two yellow cards per game and in those 17 games he has kept two clean sheets.
The two players he has sent off have both been in games involving Oldham. In their Worthington Cup tie at Stoke he sent off Stoke's Peter Handyside in a game that Oldham won on penalties and then Wycombe's Andy Rammell was sent off in their 2-0 defeat at Oldham in the league.
Fourteen of the yellow cards have been issued to home team players and seventeen to away team players which is fairly even and the most yellow cards he has issued this season is five in the Division Three game between Carlisle United and Rochdale.
And so to his previous Burnley games, and there are just two. The first of these passed off fairly quietly, it was the Worthington Cup 1st round, 1st leg tie against Hartlepool United last season. The Clarets won 4-1 after trailing at the interval and Mr. Kaye didn't even feel the need to get either of his cards out of his pocket in the entire 90 minutes.
Then on to Crewe in February of last year. Here Mr. Kaye turned in one of the all time horrendous performances. The game was only five minutes old when he missed the most blatant of hand balls and allowed Crewe to go through and take the lead but then after we had equalised through Graham Branch he was to excel himself yet again.
We were five minutes from half time and still looking to get the lead our play had so deserved when Crewe had a rare attack. They got into the box and the Crewe forward went down, why we are not too sure but there was nobody near him. Good enough for Kaye and he awarded a penalty. Crewe went back in front from the spot kick and before half time he had repeated it although this time it was fair after a foul by Paul Cook.
It was hard to believe that we were 3-1 down at the interval but Mr. Kay hadn't finished. Just before the hour he decided to balance the books a little and so awarded us a penalty for a foul that was clearly OUTSIDE the box. Trouble was though, we missed out free gift, John Mullin's kick was saved but two minutes later he game his fourth penalty in 20 minutes and this time we pulled one back.
We had three players yellow carded in the game but when we won the last penalty there was no doubt that Crewe keeper Bankole had to go off. Amazingly he wasn't even spoken to. Kaye lost the plot completely and both managers had harsh words for him after the game with Gradi coming close to calling him a cheat for trying to even things up in the second half.
It was clearly obvious from the first decision he gave that he wanted to be the star attraction that afternoon and nobody who was there will ever forget the name of Alan Kaye.
I would only hope that he has got his bad games out of his system because we do not want another performance like that, one of the worst I have ever seen from a referee.