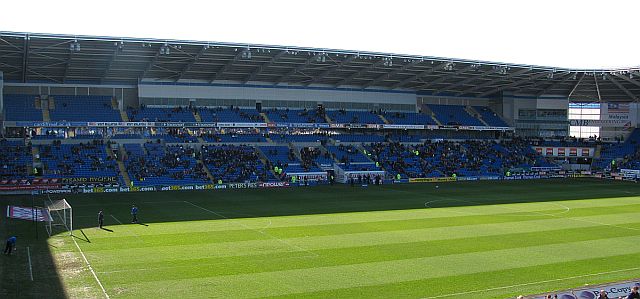 Only West Ham, and then just briefly twice, have kept Southampton off the top of the league since mid-September, but they trailed 2-1 at Millwall as Reading were coasting to a 4-0 win at Barnsley and had the scores remained at that then Reading would have led the table by a point.
That all changed when Essex referee Fred Graham awarded Southampton two late penalties, both converted by Rickie Lambert, to give them a 3-2 win. Millwall were far from happy with the awards and I have some real sympathy with the second when it looked as though a Southampton player handled the ball and not a Millwall player.
That doesn't bother the league's leading goalscorer Lambert. He's netted 24 now, of which 9 are penalties, and it is his fourth hat trick. That's the most league goals from one player in the Championship since Sylvan Ebanks-Blake scored 25 for Wolves three years ago and Lambert will surely pass that.
It's not a good time for Millwall; their leading goalscorer Darius Henderson has other worries as he faces a grievous bodily harm charge in the summer following an incident in a restaurant in the early hours of New Year's Day which left a 41-year-old man with a broken jaw.
One thing for certain, surely, now is that the two automatic promotion places will come from the top three. Southampton have 72 points, Reading 70 and West Ham, who have a game behind, have 67 points which is eight points clear of Birmingham in fourth place.
West Ham and Birmingham are currently joined in the play off positions with Blackpool and Middlesbrough, Blackpool coming from behind to beat Brighton to claim their place. Brighton are now one of three teams, with Hull City and Cardiff City, who are just a point outside the top six.
At the other end of the table, three of the bottom four claimed draws with Doncaster Rovers, at home to Derby County, the only losers. Bristol City's point took them level with Nottingham Forest who were without a game because of Leicester City's FA Cup tie at Chelsea.
Below are the results from the last week along with the stats, the leading goalscorers, each club's disciplinary record, the highest and lowest attendances and the midweek fixtures.
The Week's Results
Tuesday 13th March

Cardiff City 0 Hull City 3

Doncaster Rovers 1 Reading 1

Derby County 1 Nottingham Forest 0

Leicester City 3 Birmingham City 1

Saturday 17th March

Barnsley 0 Reading 4

Ipswich Town 3 Peterborough United 2

Birmingham City 3 Middlesbrough 0

Leeds United 1 West Ham United 1

Blackpool 3 Brighton & Hove Albion 1

Millwall 2 Southampton 3

Crystal Palace 0 Hull City 0

Portsmouth 0 Bristol City 0

Doncaster Rovers 1 Derby County 2

Watford 0 Coventry City 0

Sunday 18th March

Cardiff City 0 Burnley 0
The Week's Stats

Biggest Win

Reading 4-0 v Barnsley (away)

Total Goals Scored

36 (18 home - 18 away)

Player Scoring Most Goals

3 - Rickie Lambert (Southampton)

Highest Attendance

33,366 - Leeds United v West Ham United

Lowest Attendance

8,287 - Doncaster Rovers v Reading

Total Yellow Cards

43

Total Red Cards

2

Most Cards in a Game

Derby County v Nottingham Forest (6Y 1R) Ref: Andy D'Urso
Leading Goalscorers (League Only)

24

Rickie Lambert (Southampton) - includes 9 penalties

15

Ross McCormack (Leeds United)
Jay Rodriguez (Burnley) - includes 3 penalties

14

Darius Henderson (Millwall) - includes 2 penalties

13

Michael Chopra (Ipswich Town)
David Nugent (Leicester City)
Kevin Phillips (Blackpool)

12

Marlon King (Birmingham City) - includes 2 penalties
Robert Snodgrass (Leeds United) - includes 1 penalty
Ricardo Vaz Te (West Ham United) - (10 with Barnsley)

11

Craig Davies (Barnsley) - includes 1 penalty
Marvin Emnes (Middlesbrough)
Matty Fryatt (Hull City) - includes 1 penalty
Billy Sharp (Southampton) - includes 1 penalty - (10 with Doncaster Rovers)

10

Charlie Austin (Burnley)
Guly Do Prado (Southampton)
Lukas Jutkiewicz (Middllesbrough) - includes 1 penalty - (9 with Coventry City)
Robert Koren (Hull City)
Adam Lallana (Southampton)
Pete Whittingham (Cardiff City) - includes 3 penalties
Chris Wood (Bristol City) - (9 with Birmingham City)
Hat Tricks
Date

Player & Game

20/08/11

3: Lee Tomlin - PETERBOROUGH UNITED v Ipswich Town

10/09/11

3: Rickie Lambert - SOUTHAMPTON v Nottingham Forest

11/09/11

3: Chris Wood - BIRMINGHAM CITY v Millwall

12/10/11

3: Darius Henderson - Leicester City v MILLWALL

02/11/11

3: Jonjo Shelvey - Leeds United v BLACKPOOL

19/11/11

3: Rickie Lambert - SOUTHAMPTON v Brighton & Hove Albion

26/12/11

3: Matthew Phillips - Barnsley v BLACKPOOL

31/12/11

3: Ricardo Vaz Te - BARNSLEY v Leeds United

21/01/12

3: Darius Henderson - Barnsley v MILLWALL

31/01/12

4: Nikola Zigic - Leeds United v BIRMINGHAM CITY

26/02/12

3: Rickie Lambert - Watford v SOUTHAMPTON

19/03/12

3: Rickie Lambert - Millwall v SOUTHAMPTON
Disciplinary Record (League and Cup)

Club

Y

R

Y

R

Club

Y

R

Y

R

League

Total

League

Total

Barnsley

48

1

51

1

Ipswich Town

47

4

48

4

Birmingham City

48

2

53

2

Leeds United

59

5

65

5

Blackpool

46

1

49

2

Leicester City

52

8

60

8

Brighton and Hove Albion

76

7

90

7

Middlesbrough

63

7

66

7

Bristol City

68

4

70

4

Millwall

63

2

70

2

Burnley

53

2

61

2

Nottingham Forest

50

4

55

4

Cardiff City

45

0

61

0

Peterborough United

43

2

46

2

Coventry City

46

2

48

2

Portsmouth

61

4

68

4

Crystal Palace

45

2

49

3

Reading

52

0

55

0

Derby County

48

1

48

1

Southampton

44

4

47

4

Doncaster Rovers

57

2

59

2

Watford

53

2

55

2

Hull City

56

1

61

1

West Ham United

54

6

57

7
Highest and Lowest Attendances

Highest

Lowest

Att

Fixture

Att

Fixture

34,936

West Ham United v Coventry City (02/01)

6,351

Peterborough United v Cardiff City (18/10)

34,900

West Ham United v Crystal Palace (25/02)

6,392

Peterborough United v Millwall (06/03)

34,749

West Ham United v Barnsley (17/12)

7,004

Peterborough United v Bristol City (18/02)

34,650

West Ham United v Doncaster Rovers (10/03)

7,540

Peterborough United v Blackpool (10/03)

33,465

West Ham United v Portsmouth (10/09)

7,555

Peterborough United v Portsmouth (28/01)

33,366

Leeds United v West Ham United (17/03)

7,650

Doncaster Rovers v Watford (26/11)

33,010

Derby County v Southampton (15/10)

7,778

Doncaster Rovers v Bristol City (27/08)

33,010

Derby County v Leeds United (26/12)

7,901

Peterborough United v Burnley (17/09)

33,010

Derby County v Nottingham Forest (17/03)

7,928

Peterborough United v Ipswich Town (20/08)

32,875

West Ham United v Southampton (14/02)

8,062

Peterborough United v Coventry City (17/12)
The Next Fixtures
Tuesday 20th March

Brighton & Hove Albion v Derby County

Leeds United v Nottingham Forest

Bristol City v Watford

Peterborough United v Reading

Crystal Palace v Barnsley (20:00)

Portsmouth v Birmingham City

Doncaster Rovers v Millwall

West Ham United v Middlesbrough

Hull City v Southampton

Wednesday 21st March

Blackpool v Leicester City (20:00)

Ipswich Town v Burnley

Cardiff City v Coventry City