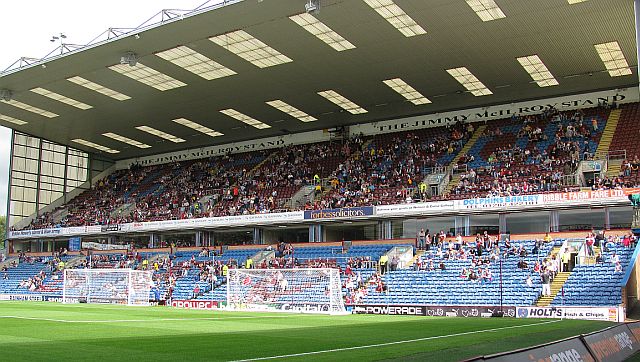 I've a few friends who live in the Leeds area, and a couple more next door in Bradford. I'm sure they've had a particularly good time today, getting that rare opportunity to gloat.
While we were winning last night, the other 22 teams in the Championship were all playing and I'm sure the one result that has grabbed everyone's attention was Charlton's 5-4 home win against previous league leaders Cardiff.
It was more astonishing given that Cardiff were a goal up in four minutes and doubled that lead midway through the first half. By half time Charlton had drawn level and just over 40 minutes after Cardiff's second they'd scored a further three and led 5-2.
Only two stoppage time goals made the scoreline look anything like respectable for the Welsh club. They got four against us ten days earlier; this time they certainly weren't celebrating. Apparently Cardiff were playing really well at 2-0 but manager Malky Mackay lamented: "To give five goals away is unforgivable."
The goals were flowing south of the river in London and Crystal Palace took full opportunity to take over at the top of the league when they went nap against bottom of the league Ipswich. For the second time in four days Glenn Murray was amongst the goals but for the second time in four days he missed a penalty.
Even so, he still completed his hat trick (including two more penalties) and he's only four goals behind Charlie Austin now. Six of those goals have come from the spot. Add the three penalties he's missed this season and he'd have been right on Charlie's heels.
Those three teams - Charlton, Crystal Palace and Cardiff - scored 14 goals between them but no other Championship side were able to find the net more than twice.
The top six remain unchanged other than shuffling positions with Palace now top ahead of Middlesbrough. The bottom three also remain unchanged.
Sean Dyche's second win, and he's become the first Burnley manager since Jimmy Mullen to win his first two games in charge, has seen us move up to 10th in the table and we are now only one point behind the bottom play off place. It just shows what 12 points in five games can do.
The results and stats are below as are the leading goalscorers, each club's disciplinary record, the highest and lowest attendances and the weekend fixtures.
Note that Luciano Becchio's goals total has gone down from nine to eight. The goal at Brighton last Friday has now been credited to Michael Brown.
The Results
Tuesday 6th November

Birmingham City 2 Bristol City 0

Derby County 2 Barnsley 0

Bolton Wanderers 0 Leicester City 0

Huddersfield Town 2 Blackburn Rovers 2

Brighton & Hove Albion 1 Peterborough United 0

Hull City 2 Wolverhampton Wanderers 1

Burnley 1 Leeds United 0

Nottingham Forest 0 Middlesbrough 0

Charlton Athletic 5 Cardiff City 4

Sheffield Wednesday 0 Blackpool 2

Crystal Palace 5 Ipswich Town 0

Watford 0 Millwall 0
The Stats

Biggest Win

Crystal Palace 5-0 v Ipswich Town (home)

Total Goals Scored

29 (20 home - 9 away)

Player Scoring Most Goals

3 - Glenn Murray (Crystal Palace)

Highest Attendance

23,703 - Brighton & Hove Albion v Peterborough United

Lowest Attendance

11,293 - Watford v Millwall

Total Yellow Cards

35

Total Red Cards

0

Most Cards in a Game

Charlton Athletic v Cardiff City (7Y) Ref: Keith Stroud
Leading Goalscorers (League Only)

17

Charlie Austin (Burnley) - includes 2 penalties

13

Glenn Murray (Crystal Palace) - includes 6 penalties

8

Luciano Becchio (Leeds United) - includes 3 penalties
Tom Ince (Blackpool) - includes 1 penalty
Craig Mackail-Smith (Brighton & Hove Albion) - includes 2 penalties
Jordan Rhodes (Blackburn Rovers) - 2 with Huddersfield Town

7

Craig Davies (Barnsley) - includes 1 penalty
Darius Henderson (Millwall)
Marlon King (Birmingham City) - includes 2 penalties
Pete Whittingham (Cardiff City) - includes 3 penalties

6

Sone Aluko (Hull City)
Steven Davies (Bristol City) - includes 1 penalty
Chris Eagles (Bolton Wanderers)
David Nugent (Leicester City)
Theo Robinson (Derby County) - includes 1 penalty
Liam Trotter (Millwall) - includes 1 penalty
Chris Wood (Millwall)

5

Sam Baldock (Bristol City) - includes 1 penalty
George Boyd (Peterborough United)
Sylvan Ebanks-Blake (Wolverhampton Wanderers) - includes 1 penalty
Heidar Helguson (Cardiff City)
Jermaine Johnson (Sheffield Wednesday)
Jay Simpson (Hull City)
Matej Vydra (Watford) - includes 1 penalty
Hat Tricks
Date

Player & Game

01/09/12

3: Pete Whittingham - CARDIFF CITY v Wolverhampton Wanderers

15/09/12

3: Charlie Austin - BURNLEY v Peterborough United

22/09/12

3: Glenn Murray - CRYSTAL PALACE v Cardiff City

22/09/12

4: Craig Davies - Birmingham City v BARNSLEY

23/09/12

3: David Nugent - LEICESTER CITY v Hull City

29/09/12

3: Emile Sinclair - Hull City v PETERBOROUGH UNITED

02/10/12

3: Charlie Austin - BURNLEY v Sheffield Wednesday

23/10/12

3: Marlon King - Millwall v BIRMINGHAM CITY

06/11/12

3: Glenn Murray - CRYSTAL PALACE v Ipswich Town
Disciplinary Record (League and Cup)

Club

Y

R

Y

R

Club

Y

R

Y

R

League

Total

League

Total

Barnsley

20

1

23

2

Huddersfield Town

25

2

26

2

Birmingham City

15

2

17

2

Hull City

12

0

12

1

Blackburn Rovers

20

0

20

0

Ipswich Town

22

0

22

0

Blackpool

19

0

19

0

Leeds United

27

0

32

0

Bolton Wanderers

31

1

33

1

Leicester City

17

1

17

1

Brighton & Hove Albion

22

0

23

0

Middlesbrough

21

0

24

0

Bristol City

20

0

22

0

Millwall

28

1

30

1

Burnley

26

0

32

0

Nottingham Forest

29

3

29

3

Cardiff City

22

0

24

0

Peterborough United

29

0

30

0

Charlton Athletic

25

0

25

0

Sheffield Wednesday

28

1

31

1

Crystal Palace

20

1

24

1

Watford

29

4

30

4

Derby County

12

1

13

1

Wolverhampton Wanderers

16

0

18

0
Highest and Lowest Attendances

Highest

Lowest

Att

Fixture

Att

Fixture

28,707

Nottingham Forest v Derby County (30/09)

5,435

Peterborough United v Bristol City (18/09)

28,582

Sheffield Wednesday v Leeds United (19/10)

6,188

Peterborough United v Millwall (21/08)

27,437

Derby County v Sheffield Wednesday (18/08)

6,348

Peterborough Utd v Huddersfield Town(23/10)

26,598

Sheffield Wed v Bolton Wanderers (22/09)

8,088

Barnsley v Bristol City (01/09)

26,594

Brighton & HA v Sheffield Weds (14/09)

8,195

Barnsley v Crystal Palace (23/10)

26,293

Brighton & HA v Middlesbrough (20/10)

8,319

Barnsley v Peterborough United (02/10)

26,185

Charlton Athletic v Barnsley (20/10)

8,427

Peterborough Utd v Derby County (29/10)

26,121

Brighton & HA v Birmingham City (29/09)

8,571

Barnsley v Ipswich Town (29/09)

25,726

Leicester City v Brighton & HA (23/10)

9,258

Millwall v Birmingham City (23/10)

25,518

Brighton & Hove Albion v Cardiff City (21/08)

9,280

Peterborough Utd v Wolves (22/09)
The Next Fixtures
Friday 9th November

Middlesbrough v Sheffield Wednesday

Saturday 10th November

Barnsley v Huddersfield Town

Leeds United v Watford

Blackburn Rovers v Birmingham City

Leicester City v Nottingham Forest (12:45)

Blackpool v Bolton Wanderers

Millwall v Derby County

Cardiff City v Hull City

Peterborough United v Crystal Palace

Ipswich Town v Burnley

Wolverhampton Wanderers v Brighton & Hove Albion

Sunday 11th November

Bristol City v Charlton Athletic