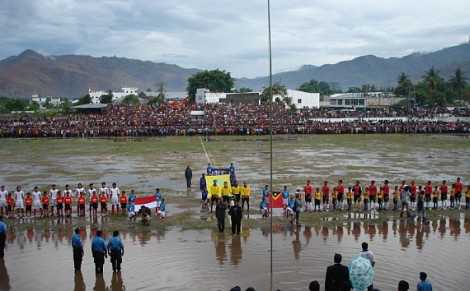 East Timor's first ever international against former occupying power Indonesia at the somewhat waterlogged national stadium in Dili
The total is now 925 and the number of different grounds has reached 304 from 59 different countries. The latest additions have increased the number of countries by four with the inclusion of Columbia, East Timor, Malaysia, New Zealand and Poland.
There are also new photographs from Premier League and non-league clubs in England as well as Brazil, France, Greece, Italy, South Africa and Spain.
Thanks to everyone who has sent in their photographs, they are all very much appreciated, and please send in any you have taken to help us reach that 1,000 target before the end of the season.
Click
HERE
to see the Ground Photographs Feature
Click
HERE
to email us your photographs