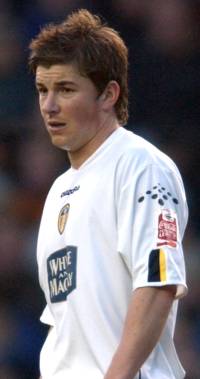 In action for Leeds earlier in the season

The 26-year-old wide man has joined the Clarets on a deal until the end of the season and has much to prove following his six years at Sunderland with only spasmodic success on the field added to his recent off field problems, particularly during his loan period at Leeds.



Steve Cotterill will know all about him from his time at the Sunderland Stadium of Light although he played only two Premiership games during that period and was twice loaned out to his first club Grimsby Town. During that second loan period he played against the Clarets on the Turf.



That was something he had done in the previous season when Peter Reid loaned him out to Barnsley and his third appearance against the Clarets also came at the Turf on the last day of last season when he was in the Sunderland side that beat us 2-1.



There's no doubting his ability and he was certainly impressing the Leeds fans at Elland Road until the club sent him back to the north east. There will certainly be no problems if he can find that sort of form in a claret & blue shirt for the rest of this season starting with today's cup tie against Bournemouth.