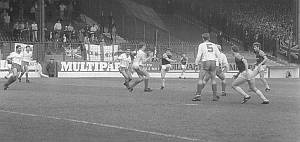 Neil Grewcock scores against Orient

Neil Grewcock started his career at his home town club Leicester but it was from non-league Shepshed Charterhouse that John Bond brought him to Burnley in 1984.



He was a Claret for seven years and was often a shining light through our club's darkest hours and his nine league goals during that fateful 1986/87 season were as vital a contribution as he ever made.



One of those goals was the first in the final match of the season against Orient and without that goal, and the subsequent one from Ian Britton, you wonder just where we would be today.



The following season he missed out on a trip to Wembley after picking up an injury in the Northern Semi-Final Sherpa Van Trophy against Halifax, it was an injury from which he never fully recovered.



Having been a regular in the side for four years he hardly played in the next two seasons and then was in and out of the side in what proved to be his last season before he was released in the summer of 1991 by Frank Casper, Neil's sixth Burnley manager.



In total he made 255 league and cup appearances for the Clarets and scored 35 goals. His last appearance was the last match of that 1990/91 season, a 2-0 win against Wrexham and his last goal was scored in another 2-0 win, this one against Walsall February.



There will be many thoughts of the Orient game and his goal when he strides out onto the pitch tomorrow – welcome back Neil.