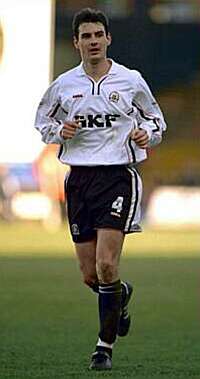 Matthew Spring - agreed a new two year deal at Luton
We had made attempts to sign him during the season and a bid of around £250,000 was laughed at by Joe Kinnear, in fact West Brom later made a £500,000 offer for him. Luton were taking a gamble with Spring out of contract at the end of next month although because of his age there would have been a fee to pay.
However the player made up his mind yesterday and decided to stay where he is and has agreed a new two year deal with the Hatters. The news has delighted Joe Kinnear although the Luton fans will not be too excited about the news. Spring has been a target of the boo boys at Kenilworth Road on a number of occasions.
Stan has said this week that he has three or four players on his wish list but one of those will definitely not be Spring. The three or four are in addition to Marlon Beresford and David Johnson who he has once again said he is keen to sign.
In true Stanglish though he added a word of caution to players looking for deals and said, "I think they are going to have to have a more realistic view. If you have only got a tenner and they want £15 they can't have it. I will not put this club in hock."
And to the fans he said that to bring in the players he wants he may have to sell some players to raise the money.