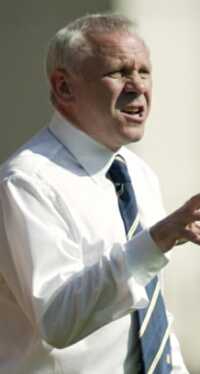 Peter Reid - currently in charge at Leeds
It will come as no surprise to hear that Burnley have arranged on of their so-called 'Prestigious' pre-season friendlies against a Premiership club and neither will it come as any surprise to hear that it is Leeds given that Stan's pal Peter Reid is currently in charge.
The game will be played on Sunday 27th July but the kick off will be 12 noon just as it was when we played Peter Reid's Sunderland four years ago. Then it was on police advice and it can only be assumed this one is similar, there seems neither sense nor reason in kicking off at this time as far as the clubs are concerned.
It could mean two games in less than 24 hours with the final of the big non-event in the Isle of Man taking place on the Saturday afternoon. With the Leeds game having been arranged that makes a Burnley appearance in the Isle of Man final look less likely.
Leeds have not had the best of season and had they lost at Arsenal last Sunday could well have been facing the Clarets next season in a Nationwide League Division One fixture rather than in a friendly.
Their visit will be their first to the Turf in over 20 years, they were last here at Easter 1983 when they won 2-1 with Trevor Steven scoring the Burnley goal. It was Trevor's last goal for the club.
Meanwhile another Premiership club have pulled out of a similar match to be played on the same day because of pressure from their own supporters.
Charlton Athletic agreed to play a pre-season friendly against Franchise in Milton Keynes but since the date was announced they have been hit by protests from their own fans who are opposed to the goings on at the franchised club.
Charlton's Chief Executive Peter Varney said after the decision to cancel had been made, "Following last Thursday's announcement of plans for the game in Milton Keynes, there has been an overwhelming response from our supporters expressing their concerns.
"We pride ourselves on listening to our fans and in the light of their reaction we have taken the decision not to proceed with this fixture."

Well done Charlton fans.