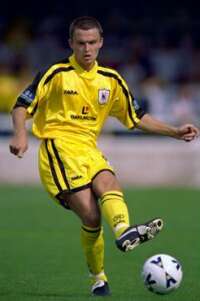 Paul Heckingbottom
The first of these is Darlington full-back Paul Heckingbottom who we told you about a month ago, along with Luton's Matthew Spring – click
HERE
for the article – but now apparently he is also a target for Norwich City.
Our sources in the north east tell us that Heckingbottom is very much second choice for Norwich and should they get their first choice target, Scunthorpe's Andy Dawson, then would not be interested in signing Heckingbottom.
Norwich had a bid for Dawson turned down earlier in the season by Brian Laws but he is now out of contract and available on a Bosman. He has been much sought after and is a player who featured prominently in a couple of games against the Clarets. It was Dawson who should have been red carded for bringing down Andy Payton through on goal in the 2-1 defeat on the Turf in promotion season. If you recall he didn't even receive a yellow card from referee Graham Laws, a decision blasted by the Sky commentary team. He then scored the goal that earned them a draw in the FA Cup replay in January 2001 and our eventual defeat on penalties. Dawson, a free kick specialist, bent the ball around the Clarets' wall and in to the top corner.
Back to Heckingbottom though and it is thought in the north east that the Clarets made an offer for him during last season, he too though is on a Bosman and should Norwich get Dawson then there is every chance that Heckingbottom could become a Claret.
The second player to have his name connected with the Clarets again is Birmingham's Dele Adebola. This appears to be an unlikely now although Stan was keen to get him some 18 months ago.
At the time it looked as though we would get him but there were disagreements between chairman and manager at St. Andrew and in the end he stayed there. He then picked up an injury, that proved to be serious, after colliding with a post, and was out of the game for just about a year.
He made his comeback recently in a reserve team game against the Clarets but then joined Oldham Athletic on loan. He was anything but a success at Boundary Park and failed to score in any of the five games he played. He was also substituted in all five games.
Oldham had considered a permanent move but even with Adebola now having been released by Birmingham they have said they were not impressed with him and would not consider him as a permanent signing.
I would not have thought that Stan would commit to signing Adebola with him having been out injured for so long and certainly not when he has failed to impress at all in his short period back from that injury.