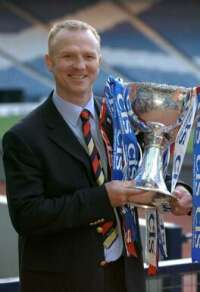 Alex McLeish and Martin O'Neill (below) will continue to play for the Scottish trophies
The Football Association have quite rightly refused to sanction such a ridiculous idea and said it would be contrary to its policy and against the spirit of fair competition. Well done for once to the FA.
It has been a mixed reaction since the news broke over the weekend but it was clear that the supporters of clubs all around the country were very much against this proposal. Petitions had already been started from irate fans who could see the whole structure of our football being put in jeopardy just to fast track two clubs in from another country.
Sadly those in favour were some of the clubs who obviously saw it as an opportunity to get two big clubs in to help in any future television talks. I remain convinced that Mr. Pompous at Bradford City was one of those behind it but I was very disappointed to hear the words of our own chairman Barry Kilby on the subject. Although stressing that it couldn't happen this summer he did suggest that it would not be a bad idea.
He told the Lancashire Evening Telegraph, "I don't think there is a prayer that it will happen next season.
"Personally, as long as it is done properly, I don't think it would be a bad thing. It will give some spice to the division and we need a lift at the moment as we are looking to negotiate a new television deal.
"There will be a lot of debate over the rights and the wrongs of them coming in to the League at our level but they would not be a bad addition. There are practical problems but it is not something that should be shut off without serious discussion and investigation. Let's face it, if Cardiff, Swansea and Wrexham can all play in the English League why can't Celtic and Rangers.
"There is still a long, long way to go and if it is ever to happen it has to be sorted before the previous season. You can't be in a position where you stop people being promoted after they have thought there way through all season. Every team has to know the situation before the start of the season and it will not be an easy one to sort out."
The comparison between the Welsh clubs and the potential to bring in clubs from other countries is not valid. Until recent years there was no Welsh League and these three, along with Newport County until 1988, had played in the Football League. Although in some ways it would be better it would be a difficult decision to make to remove them.
Inviting Celtic and Rangers is only the tip of a very big iceberg. If they were allowed in then there would be no reason whatsoever why clubs from other countries couldn't be fast tracked into a high position within our pyramid system with the potential of reaching the land of milk and honey of our Premiership.
So it really is well done to the Football Association for putting a stop to this. This is not an England versus Scotland thing but a decision that prevents a change to the game that would be very wrong.