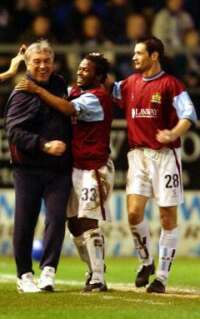 A happy looking Stan with number 33, David Johnson
When Marlon arrived at the end of January he was given the next number (apart from the unused 13 and 25) which was 31. Then David Johnson signed last Monday and it was a reasonable assumption that he would be allocated the next number 32 although nothing was said.
When Gazza was pictured with his new Burnley shirt on Saturday it was carrying the number 34 and therefore we made what we thought was another reasonable assumption that Ian Wright's 33 shirt was not being used.
Before the start of last season when the squad numbers were allocated we know that Stan specifically said that 25 and 33 had not to be used. The 25 as we said last week was because of superstition and the number 33 was because it was Wrighty's. The number 25 continues to be ignored and so we expected that Ian Wright's 33 would be as well.
This all seemed to be confirmed when the two new signings took the numbers from 31 to 34, that was until last night when David Johnson wore the 33 shirt and not 32. Now quite why the 32 shirt has been ignored we are not at all sure but there is no doubt whatsoever that Johnson has taken Wright's number.
It's a pity really because we did have a couple of ideas that had been mailed to us that we were going to put to the club regarding Ian Wright's number that is now out of the question.
But what has happened to the missing 32?