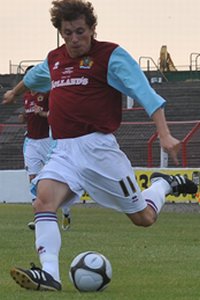 Picture kindly supplied by Burnley FC
There had been no announcement so we assumed it would be the second Latvian who it was rumoured could be coming in on trial last week, and so it proved.
Gatis Kalnins failed to impress in Scotland but lining up on the left hand side last night was fellow countryman Aleksandrs Solovjovs, a 20-year-old who plays for Olimps Riga in his homeland.
This was the player who had been interesting Mark Hughes before he left Blackburn and he's also previously trained with Chelsea. He's here on trial although it is thought that Zenit St Petersburg, the UEFA Cup holders have offered him a deal.
However, the player would prefer to play in England and there's no doubt that his performance last night would suggest at the very least another look at him. This we are doing and he is expected to play against Bradford City tomorrow night.