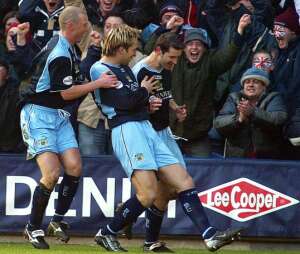 The Clarets celebrate the early goal
Don't be fooled into thinking that this result was fortunate, there is no doubt that we were well worth the draw against a Fulham side that had a lot of possession but didn't get the opportunity to give Marlon much to do other than routine stuff.
Stan chose to leave out Nik Michopoulos despite his performance at Coventry and also on the bench was Robbie Blake with Lee Briscoe preferred. It looked like a 4-5-1 system but was in effect a 4-1-4-1 formation with the outstanding Paul Cook playing just in front of the back four.
We had two teams there yesterday, those eleven named to take on Fulham on the pitch and the noisy, committed, supportive and superb masked 3,000 behind the goals. It is impossible to plan anything beforehand, it really does have to be spontaneous, but the supporters' groups who had asked for support certainly got it from first whistle to last and beyond.
The masks were there to put on should Burnley score, some mickey taking at the expense of Fulham's Facundo Sava, but were we tempting fate? No such thing and on they went with just four minutes gone as Alan Moore got between the two hesitant central defenders before slotting past the arrogant Maik Taylor in the Fulham goal.
Hesitancy from the central defenders is something we weren't to see at the other end of the ground throughout the ground but we had given Fulham a nervous start and capitalised.
Fulham were rocked and Jean Tigana had to reach for another toothpick whilst the watching Al Fayed had to cope with the celebrating Burnley directors. Stan meanwhile was doing something resembling an Irish jig down the touchline and he was to be an animated, cajoling, supportive and demanding manager all afternoon as the white trainers made several excursions to the edge of his technical area and beyond.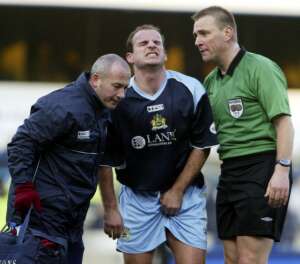 Fred West picked up an injury
He took some controlling as he got behind his players and flood warden Andy Hall, acting as fourth official, had his work cut out. And the emotionless Tigana again reached for another toothpick.
The early goal was perhaps worrying for some, with suggestions that it would leave us defending for our lives for 86 minutes but that was not the case. Certainly Fulham did get forward, and too often in the first half we allowed it by giving too many free kicks away, but we took every opportunity to get forward ourselves.
There were a couple of occasions when we could have doubled the lead but were unfortunate and on one occasion as Lee Briscoe found himself clear in the box we were stopped by what must have been a very tight offside decision.
With just a minute or so left to half time it looked as if we would go in a goal to the good but it was not to be as we gave away a free kick. A half clearance from Coxy fell to the dangerous Steed Malbranque who volleyed home in spectacular style.
So half time and all level but the Burnley fans were far from deflated and the half time interval was spent discussing just how well the Clarets had played. Well not exactly Clarets, and the one major criticism from the fans was the fact that we were not even playing in Claret & Blue. Since when did Fulham's black and white clash and force us to change? At least it wasn't the horrendous amber and black effort.
Sat at one end of the ground sometimes makes it difficult to judge just what has been going on at the other end but it did seem as though Fulham had in fact created very little. But we were now going to get the opportunity to see us defend at close quarters and for those of us sat very close, in fact just about close enough to have a conversation with Marlon, the defending we saw in the second half was a treat.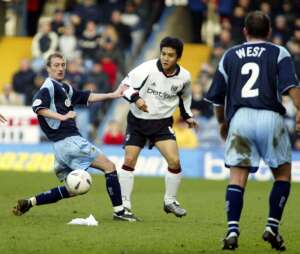 Tony Grant takes the ball away from the Japaenese sub
It is fair to say that Fulham had the edge in terms of possession but just as it had appeared in the first half they didn't seem to be getting very far with it.
They had introduced Steve Marlet at the second half for Bjarni Goldbaek. It seemed to make little difference at all and Burnley were dealing almost with ease as Fulham pressed forwards.
You sensed that Burnley were in control of proceedings although it would have been nice just to have had a little more possession. But it wasn't one way stuff and Ian Moore had an effort cleared off the line whilst Briscoe had a shot well saved by the arrogant one.
Fulham even tried something different with just under twenty minutes to go when they introduced a Japanese sub but this was to have no effect other than to excite those inside Loftus Road with the expensive cameras.
You just sensed that battling Burnley might be tiring and Stan obviously sensed it too and in a short space of time made a couple of substitutions. Paul Weller (out since the 3rd round tie at Grimsby) and Mark McGregor came on for the goalscorer Alan Moore and the outstanding captain Paul Cook.
We held our breath and waited for the final Fulham onslaught but it didn't happen. They weren't able to create another chance.
There was one scare as Saha went down but referee Graham Poll agreed with the Burnley chants of cheat and waved play on. Alan Shearer later on Sky apparently suggested that Cox should have been sent off. Nonsense Shearer – and I had a better view.
The last five minutes plus the two added on passed with the ball hardly getting within 30 yards of the Burnley goal and as Poll blew for time we had earned ourselves a richly deserved Turf Moor replay.
Fans, players and manager were as one as the celebrations started. Our team had gone to a Premiership club and deservedly come away with a draw and we cannot ask for more than that.
And we take them back to the Turf
I could, and will, say that each and every one of them were heroes and it is one of those days when it should be difficult to single players out.
But I will and I do so because I felt we were so strong in the middle as Fulham attacked us. Their first port of call was Paul Cook who I have already said was outstanding. Behind him were the two central defenders and it would be impossible to praise these two too much so well did they play.
Coxy, man of the match on his return last week, was just as outstanding today but alongside him was my man of the match Driss Diallo. I will probably not get the opportunity again to see his defending at such close quarters but this was defending out of the top drawer.
He got nothing wrong, he won headers, he won tackles, he made interceptions and above all that his instinctive way of always being exactly where he should be stood out. The Burnley fans were relieved to hear a week ago that he had signed for the rest of the season and are now hoping he will be with us for some time after that.
I have no complaints with Graham Poll either, he refereed the game sensibly for me and only Fred West received a yellow card.
But the masked 3,000 need to get their 6,000 feet back on the ground now because the job is not done. Our name goes into the hat alongside Fulham in the draw – we are ball number 5 – but the replay will be no easier. Fulham are a good side, they didn't beat us because we were at least as good as them on the day. We will need to play as well when the replay comes around.
The teams were,
Fulham: Maik Taylor, Steve Finnan, Alain Goma, Andy Melville, John Harley, Bjarni Goldbaek (Steve Marlet 45), Sean Davis, Martin Djetou, Steed Malbranque, Facundo Sava (Junichi Inamoto 72), Louis Saha. Subs not used: Martin Herrera, Abdeslam Ouaddou, Pierre Wome.
Burnley: Marlon Beresford, Dean West, Ian Cox, Driss Diallo, Graham Branch, Paul Cook (Mark McGregor 82), Ian Moore, Tony Grant, Lee Briscoe, Alan Moore (Paul Weller 77), Gareth Taylor. Subs not used: Nik Michopoulos, Robbie Blake, Dimitri Papadopoulos.
Referee: Graham Poll (Tring).