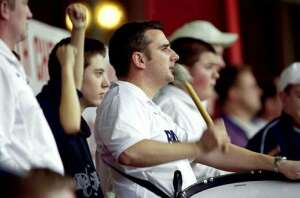 Let's hope this idiot with the drum is one of those giving the game a miss
The same cannot be said though of the Cricket Field Stand where Preston have returned around half of the tickets allocated to them. That's about 2,000 empty seats and the Preston club have told their fans that they will be able to pay cash at the turnstiles should they make a late decision and decide to go.
We know that Preston are not quite so well supported as the Clarets and their average gate is always lower than ours. However when we went to Deepdale we sold most of the 5,500 tickets available to us in the Bill Shankly kop so you would expect them to be able to sell more than 2,000 tickets at the Turf.
There is one big difference though and this is what has upset the Preston fans. We were charged £15 at Deepdale and they are being charged £19 tonight at Burnley and that make no mistake is the reason for the small turnout from Lancashire's newest city.
As tickets were about to go on sale at Preston for this game the Preston Supporters Group issued the following statement about Burnley's pricing policy.
"Tickets for the Burnley game are going on sale soon. The price for away supporters is £19 behind the goal at the Cricket Field End.
"The home fans behind the goal at the opposite end pay £13 -£14!
"Burnley FC are blatantly ripping off away supporters and with the game being shown live on TV who could blame anyone for refusing to pay this inflated and unfair price.
"Once again the most loyal of all football fans (the away supporter) is being kicked in the teeth.
"Not only Burnley but Stoke, Sheffield United and Wolves also cheat travelling fans."
They have not got their facts absolutely right, the charges at the opposite end tonight, the Jimmy McIlroy Stand, are actually £14 and £15 but there is no doubt that this does infuriate away supporters and as far as I knew was against League regulations. For certain the same will be happening at Bramall Lane next week where apart from playing against six men we will be paying way over the odds for the privilege compared with the home fans.
Clarets Mad have been out and about in Preston this week and have spoken to many North End fans with most of them telling us they will not be coming tonight. They have all given the same reason for not making the trip, the price.
One Preston fan we spoke to is missing his first away game in over three years but said as a matter of principle he would not allow a Dingle to rip him off.
Certainly Burnley fans haven't had to pay more than £19 this season at any game and if my memory serves me correctly Nottingham Forest were the only club to charge so much. The cheapest, for seating, as I recall was West Brom at a very reasonable £14.
Last week at Walsall we paid more than home fans, they charge more if you don't buy in advance but don't allow away fans to buy in advance. Surely if away fans are being ripped off it is about time the Football League took some action and made clear to supporters just what the policy and the rules are.
For now though we can expect once again to see less visiting supporters in the Cricket Field Stan than we would have thought. I wonder why?