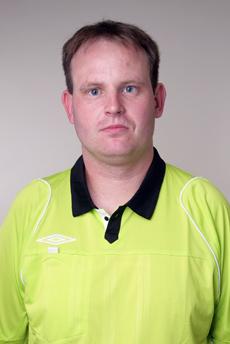 Brown is in his third season as a Football League referee but his first season caused him some problems when he used Twitter to have a joke at Liverpool Football Club's expense. Referees' supremo Mike Riley didn't like it and immediately suspended him and banned him from using social networking sites.
It was just after that when we first saw him as a late replacement for our game at Bristol City in March 2011. It was only his second Championship game and his next also featured Burnley, our opening game of last season against Sean Dyche's Watford.
Both passed without too much incident but his third Burnley game will long be remembered. He had an absolute nightmare at Elland Road and to this day I can see no sense nor reason for the dismissal of Kieran Trippier that left us to play over an hour with ten men.
He allowed Leeds to get away with everything and punished us for next to nothing. We only conceded 12 fouls in the game but received five cards, and this was the referee who delayed the start of the second half while he tapped his feet and enjoyed the playing of 'Marching on Together'.
It's clear Riley and his team weren't impressed. He was allocated only one more Championship game all season and tomorrow will be only his second this season, having already refereed 12 games.
There have been 34 yellow cards and four red cards in those 34 games. Of the yellows, 13 have gone to home team players and 21 to away team players. Three of the red cards came in consecutive games, and all four have gone to away team players.
His last game was on Tuesday this week when he refereed Stevenage's 3-1 win at Yeovil. There were two players yellow carded, Yeovil's Daniel Johnson and Gavin Williams.
Mark Brown can be found in 56th place in RATE THE REF with a rating of 48.74 out of 100.
The assistant referees are Carl Brook (East Sussex) and Mathew Buonassisi (Northamptonshire). The fourth official is Football League referee Stephen Martin (Staffordshire).
Previous Burnley Games
Season

Opponents

V

Res

Y

R

Burnley Players Carded

2010/11

Bristol City

a

0-2

6

0

n

Fox, Mears, Rodriguez, Carlisle

2011/12

Watford

h

2-2

2

0

n

Amougou

2011/12

Leeds United

a

1-2

5

1

n

Trippier, Edgar, Mee, Grant

n

Trippier