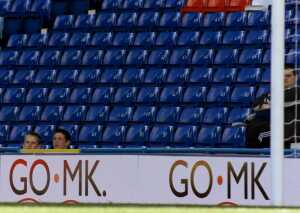 The passionate Franchise fans will not get the chance to see Spurs
Earlier this week Charlton Athletic called off their pre-season match against them in Milton Keynes after pressure from their supporters. The club quickly did a U-turn when they realised the strong feelings their supporters had against this match being played.
Today, we are pleased to report, Spurs have done exactly the same and called their game off at the Hockey Stadium in Milton Keynes although one Nationwide League chairman hasn't got the bottle to tell the truth to his club's supposed new supporters.
The game against Spurs was scheduled to go ahead on 24th July but Spurs said today that the game would not go ahead.
"Following feedback from our supporters and the Tottenham Hotspur Supporters Trust, the club have taken the decision to withdraw from the game."
So did Koppel go running to tell his Milton Keynes based supporters that Spurs won't play? What do you think?
Franchise said that the proposed friendly was now off and added, "It is with regret that the Club has had to make this decision at this time, but it has been taken to ensure that the conversion of the National Hockey Stadium, Milton Keynes, to a football stadium is completed to the satisfaction of the Club and those involved in the licensing of the stadium."
Chairman Charles Koppel added, "Whilst we are all disappointed at having to make this decision, our focus has to be on the safety and comfort of all spectators and on having our stadium ready for the Nationwide 1st Division season which kicks off on 9th August 2003.
"By taking this decision now, we have erred on the side of caution but we feel that this is the right thing to do."
I wonder why he didn't just tell them that Spurs had refused to turn up.