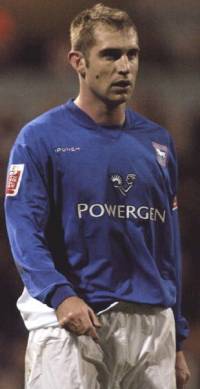 James Scowcroft - gone to Coventry

There had been much speculation that Scowcroft was set to sign for the Clarets and this seemed to be confirmed when the local evening paper revealed his name earlier this week as one of Steve Cotterill's targets.



If that was the case then we have missed out and so have Preston, who were also linked with him, after he decided to rejoin Adams at Coventry following his release from Leicester City at the end of last season.



He's not the only player to have been linked with the Clarets to be on the move today when Scowcroft's former Leicester team mate Jordan Stewart and Cheltenham's Martin Devaney both signed deals with Watford.



Devaney has moved to Vicarage Road on a Bosman transfer but Stewart has cost the Hornets a transfer fee of £135,000.



For Steve Cotterill though the search continues to add to the five players who have already signed for the Clarets since the end of last season, and joined their new team mates today as we started pre-season training.