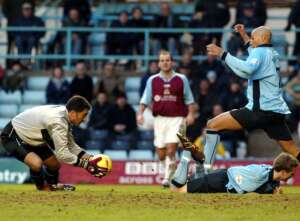 Nik Michopoulos saves from Bothroyd
In fact with today's 1-0 victory we have now won six times and drawn once in our last six eight visits with the only defeat coming in the FA Cup three years ago.
Today Stan said we needed to bounce back and that's something we haven't done too well with this season, bad defeats have usually not been followed by a good result and on both occasions we have conceded six we have lost the next game.
It was clear before kick off that we weren't going to get a classic, although it had more grass than Stamford Bridge recently it looked in poor condition and so it was to prove with the uneven surface and bounce making it difficult for all the players.
But did we want a classic or did we want a win? And I think that most Clarets there would have put their hopes on three points rather than excitement.
As we suggested this morning it was Arthur Gnohere and Mark McGregor who were the ones to lose out from the Reading defeat with Coxy and Branchy coming back in and there was also a further change when Marlon pulled out after his wife went into labour and was replaced by Nik Michopoulos.
Talking about Labour I thought I was becoming a celebrity this afternoon. I spent the entire match in the stand at Coventry with a film crew in front of me seemingly filming my every move. I thought Clarets Mad must be including film footage on the site until I had it pointed out to me that just to my left sat Alastair Campbell and it was him who was the target for the cameraman.
Nik Michopoulos made a good save early in the game and that was a significant moment in the opening period, virtually nothing else of note happened. We certainly looked comfortable at the back with Coxy and Driss getting to know each other although we were having some problems in trying to mount any serious threat on the Coventry goal. In fact the nearest we came was a long range right footed effort from Branchy that went over the bar.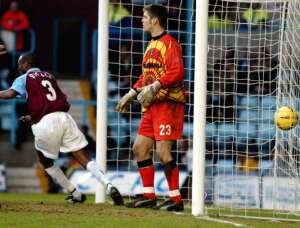 Driss Diallo turns away after Coxy's goal as Coventry keeper Hyldgaard stands watching in his fancy dress outfit
One thing was becoming clear was the fact that passing the ball on this surface was not easy and with players such as Paul Cook and Gary McAllister on the pitch it did rather nullify their efforts to play the game as it was intended.
And so it could have been of no surprise when the opening goal was scored without us making use of the pitch. We won a free kick out on the left and it was delivered perfectly by Robbie Blake for Ian Cox to head home.
We had been the better of the two sides but the goal had come right out of the blue some ten minutes before half time and although Coventry tried to get back at us they gave us no problems at all and we went in a goal up at half time.
Half time entertainment isn't much there, no cheerleaders but they do have soul singer Barry White reading out the half times. It was wonderful to hear the gravel voice of White and you just Can't Get Enough.
Coventry were back out and ready to go for the second half but had to wait around five minutes for Burnley and the referee. Whether they had been locked out of their dressing room or not I don't know but they looked fed up and miserable by the time we were ready to start.
Certainly they weren't raring to go and there was no early pressure from the home side to deal with. In fact, without creating too much, it was the Clarets taking the game to them.
One goal leads are slim but you just somehow got the impression that this was always going to be good enough, we just weren't being threatened to any extent. Anything they did get into our box was expertly dealt with by the two central defenders who weren't putting a foot wrong.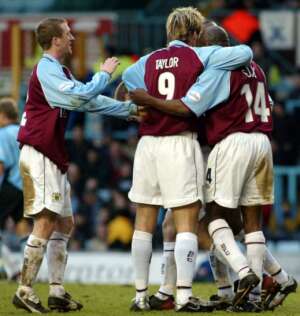 and Driss joins Tony Grant, Gareth Taylor and Ian Cox to celebrate the goal
Coventry used their subs but it had no effect before we predictably made our first substitution, Papadopoulos for Blake. And Papa nearly created us a second goal when he crossed for Taylor but the usually reliable striker headed wide.
But with then minutes left we brought on Stretch Armstrong for Alan Moore, who had been less than impressive, and thus our plan to defend deeper for the last ten minutes. And for the first time we had some real defending to do as they pushed at us. They hit the bar before the end of ninety minutes before Barry White told us that there would be an extra four minutes.
That four minutes became almost seven as Nik Michopoulos was forced into two good saves and they hit the woodwork again before referee George Cain blew the final whistle. Why he added on so long only he will know but he didn't make many mistakes in a match that was to be fair easy to referee.
There were bookings on each side and they were both clear yellow card decisions and he could have booked Ian Moore for deliberate hand ball but elected not to as he played yet another advantage.
Man of the match has to come from the back. I thought we were adequate in midfield but no more although it was a difficult area to play in because of the pitch, and I thought we were less than adequate up front.
But at the back we did well and I will give it to Coxy ahead of Driss but only just. He was coming back into the side though and it was a good return and he also scored the winner.
So back to winning ways and we can ask no more, and yes I really do enjoy going to Coventry even if not being sent there. We have now taken maximum points from them in each of the last two seasons and I'm sure there is no other ground where we have won on our last four league visits.
The teams were,
Coventry: Morten Hyldgaard, Andrew Whing, Mohammed Konjic, Richard Shaw, Barry Quinn (Calum Davenport 80), David Pipe (Ritchie Partridge 61), Craig Pead, Gary McAllister, Gary Caldwell, Gary McSheffrey, Dean Holdsworth (Jay Bothroyd 62). Subs not used: Fabien Debec, Youssef Chippo.
Burnley: Nik Michopoulos, Dean West, Driss Diallo, Ian Cox, Graham Branch, Ian Moore, Tony Grant, Paul Cook, Alan Moore (Gordon Armstrong 80), Robbie Blake (Dimitri Papadopoulos 71), Gareth Taylor. Subs not used: Mark McGregor, Andrew Waine, Andy Payton.
Referee: George Cain (Bootle).