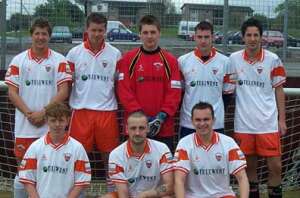 The winning Blackpool squad - picture courtesy of Seasiders.net
Only six teams took part in the Vida National 5-a-side Tournament at Blackpool on Sunday and they were Blackpool, Burnley, Carlisle United, Hartlepool United, Preston North End and Walsall.
We don't know all the results but the teams played each other in a round-robin tournament with the top two playing in the final. These were Blackpool and Carlisle United and it was Blackpool who came out on top in the final with a 2-0 win after the group game between the two sides had ended 4-4.
How did the Clarets fare? Not too well by all accounts although we do only have the results to hand against the finalists. We were beaten by five clear goals in both games, going down 5-0 to Carlisle and 7-2 to Blackpool. Maybe that is why our official site chose not to report the events of the day.
The winners, Blackpool, although representing their club's official web site were in fact a tem from Seasiders.net the independent Blackpool web site from Footy Mad.