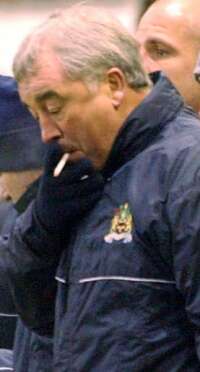 Stan during a Turf Moor game
In a week when football has been hit with some horrendous fouls and injuries, when crowds have caused problems in Europe we can only be amazed at the actions taken but the governing body UEFA. They have simply ignored all the important things but implemented a smoking ban in dug outs and technical areas from the beginning of next season.
Many grounds are now completely no smoking and some Burnley fans found themselves in trouble on recent trips to Derby and Sunderland both non-smoking venues but now the managers will be hit as well.
Stan of course will have an option, he could take a seat in the Directors Box when he wants a cig but as he said last season, when banned from the touchline, he doesn't like sitting in there.
As a non-smoker and as someone who is hardly ever likely to take up my place in the technical area at Turf Moor it won't affect me but well done again UEFA for tackling football's major problems.