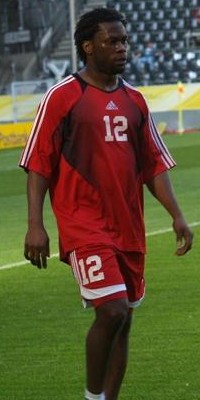 Colin Samuel - latest of the trialists
Yesterday's line up against Crewe was believed to have included Portuguese defender Ricardo Emído Ramalho Silva from Boavista, Martin Abraham a midfielder from the Czech Republic and Swedish striker Olof Guterstam.
Speculation this morning is also suggesting that Colin Samuel was involved. Trinidad & Tobago internation Samuel is currently playing his football in Canada with Toronto but has spent the last six seasons in Scottish football, firstly with Falkirk for two years and then with Dundee United.
Samuel has played in Burnley before. He was in the Dundee United side that recorded a win in a pre-season friendly at Turf Moor in the summer of 2004.
However, manager Owen Coyle has this morning confirmed that we will not be pursuing any of these players. He said: "None of the trialists we have had are, at this moment in time, right for the football club."