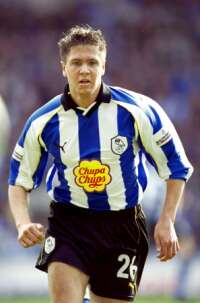 Leigh Bromby
After last week naming two different sides, initially with two Burnley players in and then not, there was no doubt this week that after our worst performance of the season we would miss out altogether.
I have to say though I was somewhat surprised to see not one but two Sheffield Wednesday players named, they weren't impressive at all, but two of their defenders have been chosen. Who was it that got us back into the game with that ridiculous hand-ball? Yes Ashley Westwood so how on earth has he managed to win a place.
He has though and the complete team this week is: Carlo Nash (Manchester City), Carlton Palmer (Stockport County), Leigh Bromby (Sheffield Wednesday), Ashley Westwood (Sheffield Wednesday), Barry Ashby (Gillingham), Dave Brammer (Crewe Alexandra), Chris Lumsdon (Barnsley), Lee Sharpe (Bradford City), Michael Hughes (Wimbledon), Mike Sheron (Barnsley), Ashley Ward (Bradford City).