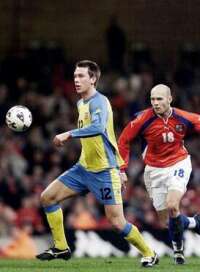 Gareth Taylor on the ball in his last appearance for Wales against the Czech Republic
The Welsh pulled off an excellent 1-0 victory at the Millennium Stadium with a goal from debutant, Cardiff's Robert Earnshaw. Taylor was named as a substitute but spent the entire ninety minutes there with Hughes making just one substitution all night and that in the last minute of the game.
Taylor had eight caps before joining the Clarets and collected his ninth in March when, again as a substitute, he played seventeen minutes against the Czech Republic in a friendly.
That appearance is included in our now complete list of players who have played international football whilst at Burnley. From there you can see the games all these players have played for their respective countries. It is entitled Internationals and can be found in the new Clarets Information section.