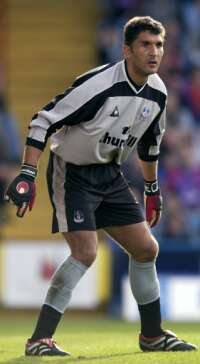 Nik Michopoulos during his loan spell at Palace
Our squad though could be increased though with the end of a loan period, that of Nik Michopoulos at Crystal Palace where he has recently been warming the subs bench with Alex Kolinko in goal.
Mr. Misery will now have to make a decision on Nik the Greek with his most recent two month loan spell at an end. Without being too sure on the loan rules I do suspect that there can now be no extension and for him to stay at Selhurst Park would require Palace taking him on a permanent basis.
This seems unlikely and there have already been suggestions that they will look for cover elsewhere via another loan deal which will mean Nik returning to the Turf. If recent rumours are true regarding Marlon Beresford moving to Preston then his return will be just at the right time and he could find himself straight back into the side.
Nothing has been said from either Palace or Burnley as yet but his last two month deal was announced on 30th October, exactly two months ago, which will probably mean he will not be available for Palace on New Year's Day.