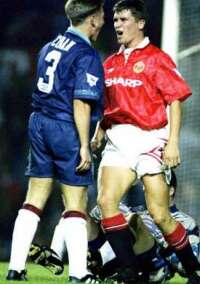 Tom Cowan in his Premiership days with Sheffield United bravely squaring up to Roy Keane
Tom Cowan was freed by the Clarets at the end of the 2
nd
Division promotion season and signed for Cambridge United after a short loan spell there. After a successful first season he has not been able to win a place in the side this season and in February had a month on loan at Peterborough United. Even then he knew he was to be released at the end of the season.
He could have joined York City on loan on transfer deadline day but injury prevented that. However York, managed by his former Huddersfield boss Terry Dolan, invited him to train with them and he has just completed three weeks training with the North Yorkshire club.
Dolan has offered him a contract and so it is now up to the player as to whether he rejoins his old boss and his old Burnley team mate Chris Brass at Bootham Crescent. Needless to say it will be some time before Cowan agrees, three years ago having been offered a deal by Burnley he sat on the offer so long he started the following season on a week to week deal.
John Williamson was one of the six players released by Stan last week and he has since been to Swindon for a week and, despite Swindon's denial, played in their reserve team last Saturday in a 2-1 defeat against Brentford.
We can now confirm though that there has been no offer of a contract to John but Swindon boss Andy King has invited him back for a week for pre-season training so he can take another look at him.
Again, as in the case of Tom Cowan, he could join up with a former Turf Moor team mate in his case Swindon's player of the year Matty Heywood.