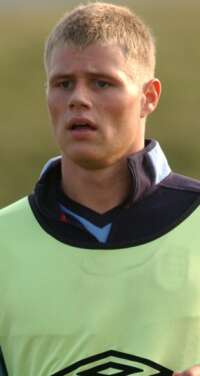 Jay McEveley - could start on the bench
This will be the third match in succession that the Clarets have been without one player suspended and on this occasion it will be Richard Chaplow who has reached five yellow cards with four in successive matches ending at Sunderland.
He will need to be replaced in midfield but there are no such problems at the back with David May returning from suspension and having played for over an hour at Stoke in the reserves as well as McEveley. And it is in this are where all the questions are being asked.
Both Mark McGregor and Arthur Gnohere played well against Sheffield United with McGregor, who has stood in for both Arthur and May in the last two matches, in excellent form.
With rumours being reported in the tabloids of a training ground bust up involving May it could well be that Stan decides to stick with the same pairing. It is already being reported that Ian Moore will retain the captaincy which obviously means Graham Branch is still out and also suggests that May will not play.
If so that still leaves McEveley, who will wear the number 16 shirt vacated by Gareth Farrelly, who can play either in the centre of defence or at left back but there have been hints, including from the player himself, that he could well start the game on the bench.
With Weller having come through the reserve team game it is reasonable to assume that he will replace Chappy and that being the case we could line up:
Brian Jensen, Lee Roche, Mark McGregor, Arthur Gnohere, Mo Camara, Glen Little, Paul Weller, Tony Grant, Luke Chadwick, Robbie Blake, Ian Moore. Subs: Dean West, Jay McEveley, David May, Joel Pilkington, Matt O'Neill.
It is always something of a bonus when you realise that your opponents' best player is out of the side. But on this occasion it is anything but as the Coventry player/boss Gary McAllister takes time away from the game to spend with his family with news that his wife Denise is seriously ill.
Coventry are a much stronger side with McAllister in the line up and stand in boss Eric Black has a major decision to make as to who should replace him. It is made even more difficult with Youssef Safri also out suspended having collected five yellow cards.
Graham Barrett and loan players Johnnie Jackson and Yazid Mansouri are tipped to be the front runners to replace McAllister and Safri and it looks almost certain that there will be another enforced change with Julian Joachim almost certain to be ruled out with a hamstring injury. His likely replacement is former Wrexham hit man Andy Morrell although Dele Adebola could come into contention.
One player who will not replace Joachim is Gary McSheffrey. He has returned from a loan period at Luton and although Black is believed to rate him higher than McAllister does the striker is currently out injured.
Defender Richard Shaw has come through a reserve team game following injury but will probably have to settle for a place on the bench.
Coventry will almost certainly have former Burnley loan man Gavin Ward in goal and will probably line up:
Gavin Ward, Craig Pead, Mo Konjic, Callum Davenport, Steve Staunton, Micky Doyle, Yazid Mansouri, Graham Barrett, Stephen Warnock, Patrick Suffo, Andy Morrell. Subs: Scott Shearer, Andrew Whing, Richard Shaw, Johnnie Jackson, Dele Adebola.