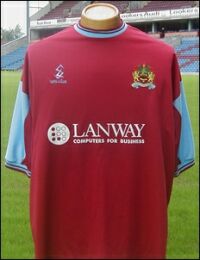 2001/02 shirt
They told us that they will make an announcement about the team's appearance on Monday morning so assuming they are not going to be playing naked it can only mean the new kit will be revealed.
There have been no hints this year as to what it could be like and so we will have to wait until Monday. We do know that TFG had to fight off competition from a number of companies running into double figures to win the contract. Although a Scottish company there is a local flavour to the company with the local base run by two former Burnley Football Club personalities in Frank Casper and Joyce Pickles.
There has been some concern that the shirt will be the Claret and Blue shirt displayed on the TFG web site but this is not the case and the Burnley kit will be one that has been specifically designed for the Clarets.
All will apparently be revealed at 11:30 on Monday.