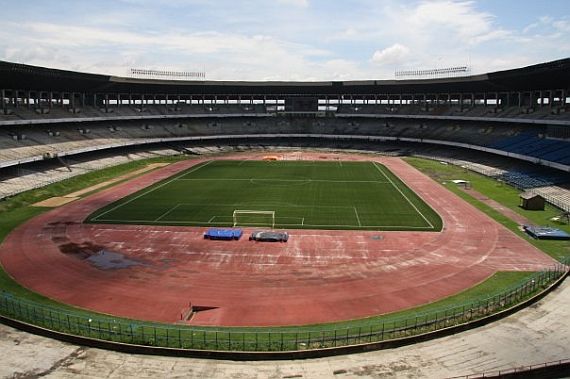 India becomes the 63rd country in a feature that is now edging close to photographs from 400 different grounds with the total of photographs now above 1,420.
The latest additions are four grounds in India. They included the impressive Salt Lake City Stadium in Calcutta, featured above, along with, shall we say, three lesser grounds in the area.
Over in the United States of America there is a new, or old, ground in Dallas, Texas. The photograph of the Cotton Bowl, now home of FC Dallas, was taken during a 1995 international between Nigeria and Mexico in the USA Cup.
Finally, Burnley's early pre-season games had already brought photographs of Mossley's Seel Park. Today there are further photographs from both Moss Lane, Altrincham and Barrow's Holker Street.
The visit to Holker Street brought with it an opportunity to photograph the Wilkie Road home of Furness Borough. It's fair to say it is not too far from Barrow's ground, they adjoin just as do the football and cricket grounds at Turf Moor.
If you've snapped any grounds on your travels, and you'd like them included, please EMAIL them and they'll be added with the next group.
The GROUND PHOTOS feature can be found via the Clarets Extra2 drop down menu.