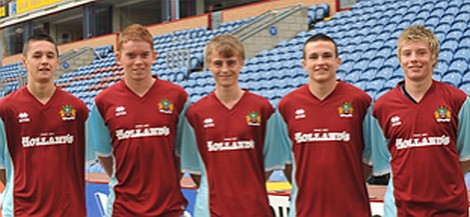 Five of the six new apprentices L --> R: Dominic Knowles, Danny MacDonald, Jake McEneaney, Liam Newman, Oliver Devenney.
Pic courtesy of Burnley FC
It is usually the case that players from the under-16 team who are to be offered apprenticeships will start to play in the youth team, particularly in the second half of the season, and that's happened again this year for five of the six new signings with the other making his bow in the last reserve team game of the season.
The six new players takes our numbers up to seventeen as they join the eleven players who will be moving into their second year at the start of next season.
The new boys are:
Oliver Devenney
Oliver is from Whalley and plays in the centre of midfield. He's played a number of youth team games towards the end of the season and has very much impressed me with his passing, both long and short.
Michael King
A left winger from Aughton near Ormskirk. Michael was drafted into the reserve team for the last game of the season on the left wing. It is the only time I've seen him play and he certainly looked to have some pace.
Dominic Knowles
A striker who scored his first reserve team goal at the end of the season. He's got some pace and is excellent at finding space for himself. Dominic is from Oswaldtwistle.
Danny MacDonald
Danny is a goalkeeper and hails from Blackpool. The first time I saw him in action was in the FA Youth Cup tie against Arsenal. He was brought in with both Jonathan Sergeant and Stef Ritchie unavailable. He impressed me greatly after a poor mistake cost us the first goal. He did not let that mistake get to him and got on with his game.
Jake McEneaney
Jake is a left back from Skipton and is the only one of the new apprentices I've still to see play. Andy Ashworth, our youth team reporter, had good reports when he saw him in an Alliance League game towards the end of the season.
Liam Newman
The first time I saw Liam play was on television when he played up front for Wales schoolboys against Scotland. He's from Chester and was spotted by the Clarets playing for the county team. Liam is a strong centre-forward who is very strong in the air.
The six new lads will be in the youth squad alongside the second years who are: Chris Anderson, Dan Brown, Dil Chaggar, James Craggs, Wes Fletcher, Alex-Ray Harvey, Ben Hoskin, Nik Kudiersky, Matt Lomas, Chris Lynch and Stef Ritchie.