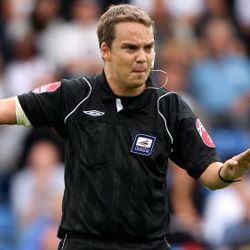 Naylor had the strangest of games at the City Ground at the end of January. I said at the time that I'm all for referees who like to keep the game flowing but he did it by not seeing anything. There were a couple of incidents in the second half when the lack of a card was difficult to understand.
Still, better that than a Deadman, and I've no real problems with getting Naylor again so soon.
Despite that game being five and a half weeks ago, he's only refereed two games since. He was in charge of the Championship game between Cardiff and Peterborough on 14th February and last Saturday refereed Preston's 0-0 draw in League One against Walsall. Florent Cuvelier of Walsall was the only player yellow carded in that game.
He's handed out 77 yellow cards this season in 23 games. Of those yellow cards, 29 have gone to home team players and 48 to away team players.
The assistant referees are Colin Lymer (Hampshire) and Wade Norcott (Essex). The fourth official is John Busby (Oxfordshire).
Previous Burnley Games
Season

Opponents

V

Res

Y

R

Burnley Players Carded

2010/11

Coventry City

h

2-2

4

0

n

Carlisle, Elliott

2011/12

Nottingham Forest

a

2-0

0

0