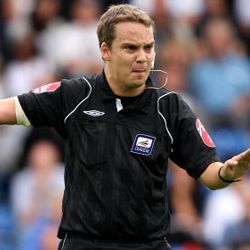 Tonight, the man in charge is Michael Naylor from South Yorkshire. It's just his second season as a Football League referee and tonight's game will be only his fifth at this level this season and his seventh in total.
Our paths have crossed before. He refereed his second Championship game at Turf Moor last March against Coventry. The game was drawn 2-2 and there were also two yellow cards each. He did OK and his performance gave him a rating of just over 60 in RATE THE REF which sees him in 37th place in the table.
This season he's refereed 20 games in total and there have been 74 yellow cards and four red cards in those games.
He's certainly had his moments and in the League One clash between Notts County and Tranmere back in August there were a grand total of 11 yellow cards in a game that also saw Tranmere have two players sent off.
All four players he's sent off are away team players and of his yellow cards, 28 have gone to home team players and 46 to away team players.
Last time out he had a quiet game. It was Hereford's 2-0 home defeat against Shrewsbury on Saturday and there were no cards.
The assistant referees are Michael Blackledge (Cambridgeshire) and Marc Perry (West Midlands). The fourth official is John Scott (Buckinghamshire).
Previous Burnley Games
Season

Opponents

V

Res

Y

R

Burnley Players Carded

2010/11

Coventry City

h

2-2

4

0

n

Carlisle, Elliott