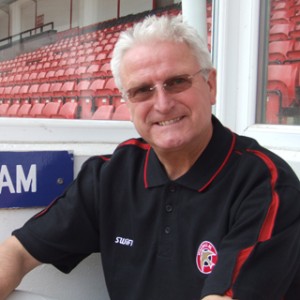 Photograph by kind permission of Walsall FC
Jimmy was brought in during last season as Richard Money's assistant and took over when Money opted to resign towards the end of last season and they picked up one point from the remaining two games.
They finally appointed him on a permanent basis in the summer and they started the new season brightly. However, they now find themselves in twelfth place in the league.
The Walsall board issued the following statement today: "After careful consideration, the Board has taken the decision to terminate the employment of Jimmy Mullen as first team manager, with immediate effect.
"The decision has been taken as a result of a sequence of disappointing results, particularly at home games, which has been damaging to attendances.
"The Board wish to express their appreciation for the efforts of Jimmy Mullen last season, when his arrival as assistant to Richard Money was an important factor to improving he playing fortunes of the team.
"This is not the outcome we desired, but feel that, with the season reaching the halfway stage, it was necessary to take this decision in the best interests of the club. The Board would like to thank Jimmy for his efforts, and wish him every success for the future."